The Online Summer Academy 2020 - More Details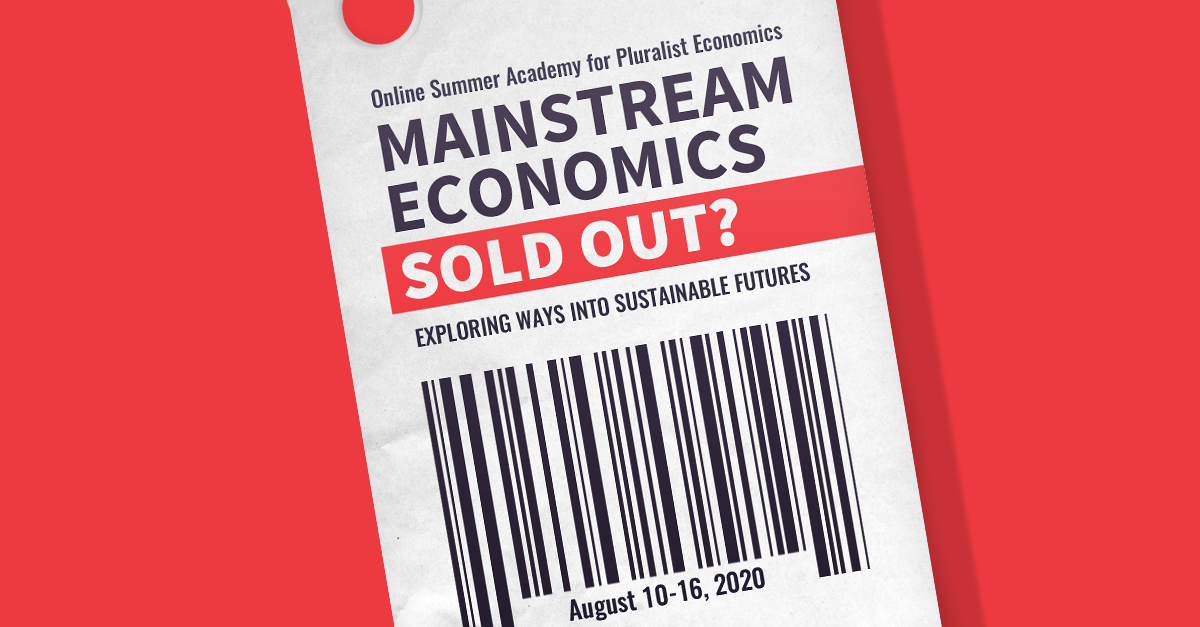 This year's summer academy will be marked by the COVID-19 pandemic – not least because we had to change the overall concept into an online format. In fact, we want to take the coronavirus crisis as a starting point to question our current economic system as well as to rethink the unequal North-South relations that characterize our postcolonial world order.
We believe that it is insufficient to view the current pandemic as an unforeseen, external shock to the daily routines of a mostly well-functioning global economy that quickly outgrew its last major recession after the 2008 financial crisis. On the contrary, the majority of the world's population has been living in crisis long before the emergence of COVID-19. This became imminent in last year's wave of social protests in many countries all over the world like Sudan, Algeria, France, Hong Kong, Lebanon, Iraq, Ecuador and Chile. In fact, the present time can be characterized by multiple crises: climate change and the ecological crisis, the crisis of economic and political liberalism, the crisis of democracy combined with rising inequalities and social polarization, as well as worsening conflicts and growing numbers of refugees. Many of these interconnected phenomena already are, or probably will be, amplified by the coronavirus pandemic and its economic and social consequences.
Thus, the summer academy's title: "Mainstream Economics Sold Out? Exploring Ways into Sustainable Futures." On the one hand, we want to debate whether mainstream economics has indeed sold out or whether there is an increasing acknowledgement of unorthodox, non-neoclassical thinking. On the other hand, we want to explore the transformative potential of the coronavirus crisis not only with regard to the global economic system but also to the discipline of economics. What kind of economic thinking is needed to lay down pathways towards sustainability and international solidarity, instead of ecological destruction and xenophobic nationalism? We are convinced that this can only be done from a pluralist perspective. Indeed, there is not a single path towards one shared future but multiple ways to a plurality of possible futures. However, such a perspective challenges us to overcome Eurocentric thinking and to take into account the diverse voices of the so-called global south.
This year's online summer academy shall serve as a platform for an interdisciplinary, intergenerational, and international exchange on the most pressing global challenges. Besides analyzing them on a theoretical basis, we want to discuss practical responses to these challenges from the diverse perspectives of pluralist economics.
​​
Who is organizing this event?
The summer academy is co-hosted by the Netzwerk Plurale Ökonomik e.V. (Network for Pluralist Economics) and the Evangelische Akademie Thüringen (Protestant Academy of Thuringia).
Over the last years, the Network for Pluralism in Economics has become a dynamic student movement with substantial impact on debates surrounding the current state and future of economics as a discipline in academia. It is a member of the International Student Initiative for Pluralism in Economics (ISIPE) which unites more than 100 student initiatives from over 40 countries worldwide.
The Evangelische Akademie Thüringen is an educational institution of the Protestant Church of Central Germany, which contributes to public debates around democracy, freedom, and justice by organizing conferences, workshops, and other events. Its aim is to create a forum of exchange between people from different backgrounds and beliefs on the fundamental issues of humanity, religion, and the world.
To make this event possible, we cooperate with partners like the Club of Rome, the Institute for New Economic Thinking and the Institut für Makroökonomie und Konjunkturforschung (Macroeconomic Policy Institute) in Düsseldorf, Germany. Our partners support the academic and organizational setup of the Summer Academy and/or contribute financially.
Here you can find out more about the actual organizing team.
When and how will it take place?
The summer academy will take place from August 10-16 2020 as an online event. It consists of two main parts. Workshops with around 10 participants each and an evening program in the format of streamed lectures and panel discussions. The workshops will be held in the style of webinars by using online group collaboration and video conferencing software. They are reserved for registered participants only. The evening program, on the other hand, will be freely accessible without prior registration.
Here you can find a detailed schedule of the event.
What will the workshops be about?
The workshops can be thought of as the core of the online summer academy. Their overall goal is to complement the neoclassical mainstream of economic thinking by additional and alternative perspectives. The workshop participants and lecturers will discuss pluralist and heterodox approaches to economics oriented towards social welfare and prosperity in order to foster democratic debate and activism in civil society as well as academia.
There will be twelve workshop sessions of 90 minutes each that combine phases of interactive lecturing, collaborative teamwork and periods of individual work. Each workshop group of around ten participants will be guided by one or several lecturers and focus on a specific school or angle of economic thought. The workshop groups will work together in producing a common output which will be made publicly available on the e-learning website www.exploring-economics.org. So it may be used as a reference by future summer academy participants and as an e-learning resource by students and teachers all over the world.
Here you can find out more about the workshops.
What about the evening program?
The idea of the evening program is to bring in high-level experts and well known public speakers to share their views on the issues of pluralism in economics, capitalism, sustainability, international solidarity and development. Each lecture or panel discussion will be supplemented by a subsequent Q and A session. The whole evening program will be made publicly available through livestreams and recordings, so that people from all over the world can benefit from it.
Here you can find out more about the evening program.
How is a one-week online event even possible?
Our goal is to provide high-quality, interactive online workshops and to enable the participants to exchange and collaborate in smaller groups. Also, we want to make sure that all data is stored securely in order to respect your privacy. For that reason, we decided to use self-hosted, open-source software instead of proprietary tools like Google Docs or Zoom.
Our main communication tool for the summer academy will be Nextcloud Hub, a self-hosted cloud storage that – besides the possibility to store and share files – provides tools for online document editing and chatting. For the workshops and the evening program, we will be using the video conferencing software BigBlueButton. Like this, there will be one common platform accessible for registered participants only while all data is being stored on our own server.
Who can apply for the program?
We invite people from all over the world to apply for the summer academy, provided that they share a serious interest in pluralist economics and are able to fluently converse in English. Since our goal is to bring together participants from diverse academic, biographic, and geographic backgrounds, it is not obligatory to be a student of economics or business administration.
Here you can find out more about the application process.
Is there a participation fee?
Yes, we will ask you for a small financial contribution. However, we want to make sure that this cost will not exclude anyone from participating. In fact, organizing an event like the summer academy costs a lot of money and definitely would not be possible without our partners and funders. Many thanks for their financial support!
There will be a regular participation contribution of 20 €.
If you can afford it, please pay a solidarity contribution of 50 €.
If it is difficult for you to pay the regular contribution, please let us know in the application form. We will contact you to find an individual solution.