The Online Summer Academy 2020 - Lecturers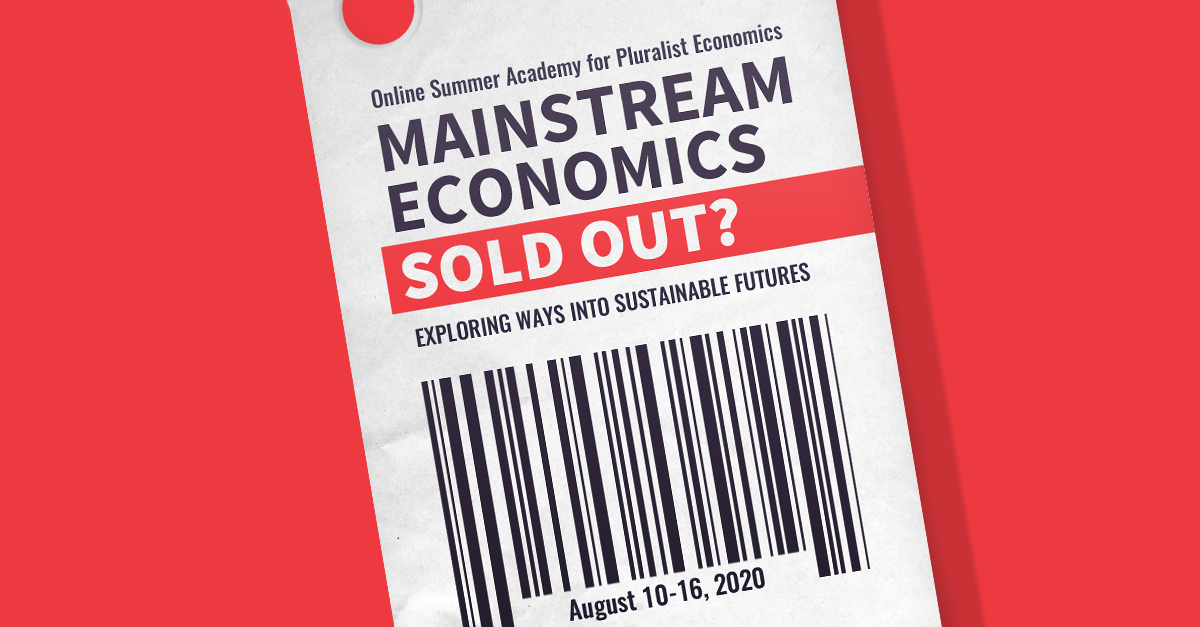 Workshop 1
Dr. Farwa Sial (University of Manchester)

Farwa Sial is a Post-Doc Research Associate at the Global Development Institute (GDI) in the University of Manchester in the UK. Her research focuses on comparative development, Industrial policy, corporations, late-capitalism and the changing landscape of development assistance. She is co-convener of the DSA Group Business and Development.
Dr. Ingrid Harvold Kvangraven (University of York)

Ingrid Harvold Kvangraven is a Lecturer in International Development at the University of York, UK. She holds a PhD in Economics from The New School and her research focuses on history of thought, global trade and development finance. She founded Developing Economics and is on the management committee of the Association for Heterodox Economics.
Dr. Surbhi Kesar (Azim Premji University)

Surbhi Kesar is a Research Fellow at the Centre for Sustainable Employment at Azim Premji University, Bengaluru. She has a PhD in Economics from South Asian University, New Delhi. She was a Fulbright Doctoral Research Fellow at the Department of Economics at the University of Massachusetts, Amherst, USA. Her research areas include the political economy of development, particularly issues of informality, exclusion, and structural transformation in post-colonial labour surplus economies. She is a coordinator of the Economic Development working group of the Young Scholars' Initiative of the Institute for New Economic Thinking and a steering group member of the Diversifying and Decolonising Economics (D-Econ) initiative.
Dr. Hanna Szymborska (Birmingham City University)

Hanna Szymborska is a Lecturer in Economics at the Open University, UK. Her research interests include economics of inequality, household finance, financial macroeconomics, and history of economic thought. She sits on the Association for Heterodox Economics committee and is a member of Reteaching Economics UK.
Workshop 2
Prof. Dr. Stephan Panther (Cusanus-Hochschule Bernkastel-Kues)

Stephan Panther graduated in Economics at the Ludwig-Maximilians-University, Munich, where he also did his doctorate. Since 2016 he is a professor for Economics and institutional research at the Cusanus University, Bernkastel-Kues. His research interests are the Political Economy as well as the analysis of long-term developments. Moreover, he works on topics in the field of Institutional- and Development Economics.
Workshop 3
Riccardo Mastini (Autonomous University of Barcelona)

Riccardo Mastini is a PhD candidate in Ecological Economics and Political Ecology at the Institute of Environmental Science and Technology at the Autonomous University of Barcelona. He is a member of the academic collective Research & Degrowth and of the international network Wellbeing Economy Alliance. He is a policy advisor for the campaign Green New Deal for Europe led by the pan-European political party DiEM25. He previously worked as a campaigner at Friends of the Earth Europe and as a consultant for the United Nations Environment Programme. You can follow him on Twitter / Facebook and visit his website.
Workshop 4
Dr. Stefan Ouma (University of Bayreuth)

Stefan Ouma is Professor of Economic Geography at the University of Bayreuth, Germany. He holds a PhD in Economic Geography from Goethe University Frankfurt, and a MA in African Development Studies in Geography from the University of Bayreuth. He has published widely on global commodity chains, processes of agrarian change, African Political Economy, critical logistics, and the financialization of agriculture. He is a member of the Editorial Collective of Antipode (Wiley).
Johanna Herrigel (University of Zürich)

Johanna Herrigel is a Feminist Economic Geographer at the University of Zurich, Switzerland. She holds a PhD in Economic Geography from University of Zurich, and a MA in International Politics / International Political Economy from the University of Manchester. Her research and writing focus on agro-food systems, global commodity chains, market development policies, and as an activist-scholar she is involved in alternative food networks.
Workshop 5
Prof. Dr. Joerg Rieger (Vanderbilt University, Nashville/Tennessee)

Dr. Joerg Rieger is Distinguished Professor of Theology and the Founding Director of the Wendland-Cook Program in Religion and Justice at Vanderbilt University. Author and editor of 22 books, his books include Jesus vs. Caesar: For People Tired of Serving the Wrong God (2018), Unified We are a Force: How Faith and Labor Can Overcome America's Inequalities (with Rosemarie Henkel-Rieger, 2016), Occupy Religion: Theology of the Multitude (with Kwok Pui-lan, 2012), and No Rising Tide: Theology, Economics, and the Future (2009). His works have been translated into Portuguese, Spanish, Italian, Croatian, German, Malayalam, Korean, and Chinese.
Workshop 6
Magali Brosio (University of Birmingham)

Magali Brosio has an undergraduate degree in Economics (Universidad de Buenos Aires) and a master's degree in Applied Labour Economics for Development (University of Turin/SciencePo). She's currently pursuing a PhD in Law at the University of Birmingham. Before returning to academia, Magali had the opportunity to apply her knowledge in feminist economics in her work at the Center for the Implementation of Public Policies for Equity and Growth (CIPPEC), UN Women, and the Center for Women's Global Leadership (CWGL). Magali is currently one of the coordinators for the Gender and Economics Working Group of YSI/INET (Young Scholars Initiative / Institute for New Economic Thinking.
Workshop 7
Franziska Disslbacher (WU Vienna)

Franziska Disslbacher is an economist at Vienna Chamber of Labour and a PhD student at Vienna University of Economics and Business (WU Vienna). Franziska works on income and wealth inequality, in particular from a spatial and intergenerational perspective.
Daniel Obst (University Duisburg-Essen)

Daniel Obst is a doctoral researcher at the Institute for Socioeconomics at the University of Duisburg-Essen. His research interest lies in the influence of inequality on individual decision-making. Together with fellow students from the Network for Pluralist Economics, he has co-designed and co-founded the online platform Exploring Economics.
Patrick Mokre (New School in New York)

Patrick Mokre is a PhD student at the Economics department of the New School in New York. His research focuses on the link between wage inequality, organized labor and capitalist competition. Patrick works on Marxist political economics, labor economics, Bayesian econometrics and semi-parametric estimation of economic inequality.
Workshop 8
Jan Philipp Dapprich (University of Glasgow)

Jan Philipp Dapprich is a doctoral candidate and Graduate Teaching Assistant at the University of Glasgow. His interdisciplinary research studies the philosophy and economics of socialism and economic planning. He developed a model and computer simulation of a socialist economy which makes optimal production planning responsive to consumer demand. In his lectures and seminars he teaches Marxism and a wide variety of topics in philosophy. Before coming to the University of Glasgow, Philipp obtained degrees in philosophy, political economy and physics from the University of Düsseldorf and the University of Manchester.
Workshop 9
Maurice Höfgen (Puffendorf Gesellschaft e.V.)

Maurice Höfgen works as a research associate at the German Parliament advising on areas of fiscal and monetary policy. He holds a master's degree in Economics from the University of Maastricht and is member of Samuel Pufendorf Society for Political Economy. On top, he is engaged as an author at the online magazine Makroskop and takes the steering group lead for the "Rethinking the Role of Banks in Economics Education" campaign by Rethinking Economics. His research mostly falls within the field of Modern Monetary Theory. His book "Mythos Geldknappheit - Modern Monetary Theory oder warum es am Geld nicht scheitern muss" will be published by Schäffer Poeschel (Haufe Group) in September 2020.
Workshop 10
Prof. Matías Vernengo (Bucknell University, Lewisburg/Pennsylvania)

Matías Vernengo is Full Professor at Bucknell University. He was formerly Senior Research Manager at the Central Bank of Argentina (BCRA), Associate Professor of Economics at the University of Utah, and Assistant Professor at Kalamazoo College and the Federal University of Rio de Janeiro (UFRJ). He has been an external consultant to several United Nations organizations like the Economic Commission for Latin America and the Caribbean (ECLAC), the International Labor Organization (ILO), the United Nations Conference on Trade and Development (UNCTAD) and the United Nations Development Program (UNDP), and has six edited books, two books and more than fifty articles published in scientific peer-reviewed journals. He specializes in macroeconomic issues for developing countries, in particular Latin America, international political economy and the history of economic ideas. He is also the co-editor of the Review of Keynesian Economics (ROKE) and co-editor in chief of the New Palgrave Dictionary of Economics.
Workshop 11
Andreas Dimmelmeier (University of Warwick, UK)

Andreas Dimmelmeier is a GEM STONES Marie Skłodowska-Curie doctoral fellow at the University of Warwick and Copenhagen Business School. His research is focussed on the expert networks in the emergence of sustainable finance and the role that economic ideas played in this process.
Workshop 12
Janina Urban (Network for Pluralism in Economics, Germany)

Janina Urban is a scientific coordinator at the Network for Pluralism in Economics, Germany. She holds a Master's degree in Economics and priorly worked at a research institute in the area of New Economic Thinking. Janina is active in different political movements for European solidarity, worker's rights, democratization and post-capitalism. Her scientific fields of expertise are political economy of emerging economies, currency regimes, critical macro finance, socio-economic transitions, and economic education.
Hannah Heller (University of Witten/Herdecke)

Hannah Heller is a PhD candidate in Political Economy at the University of Witten/Herdecke. After finishing her undergraduate and master´s degree in International Economics and Public Policy, she decided to continue her studies at the Cusanus Hochschule in Bernkastel-Kues. Hannah Heller does not stop to find answers to her questions about social injustice, ecological destruction and power relations which brought her to her PhD subject: the narratives of the socio-ecological transformation of economy.
Evening Lecturers
Dr. Carolina Alves (University of Cambridge)

Carolina Alves is a Joan Robinson Research Fellow in Heterodox Economics at the University of Cambridge, Girton College, who specialises in Macroeconomics, International Finance, Marxian Economics and International Political Economy. Carolina is currently part of the Cambridge Social Ontology Group, and the Alternative Approaches to Economics Research Group – Faculty of Economics, Cambridge, and co-editor of The Developing Economics blog. She is also the co-founder of initiative Diversifying and Decolonising Economics (DEcon).
Prof. Dr. Ulrich Brand (University of Vienna)

As Professor of International Politics at University of Vienna, Ulrich Brand teaches and conducts research on the crisis of liberal globalization, international environmental and resource policies, the imperial mode of living, Latin America and socio-ecological transformation. His new book "Post-Wachstum und Gegen-Hegemonie. Klimastreiks und Alternativen zur imperialen Lebensweise" (VSA-Verlag) will be published at the end of June with a contribution on the Coronavirus crisis.
Prof. Dr. Silja Graupe (Cusanus Hochschule für Gesellschaftsgestaltung)

Silja Graupe is Professor of Economics and Philosophy and Head of the Institute of Economics at Cusanus Hochschule, a state-recognized university which she co-founded in 2014 as an academic independent institution. She also serves as Vice President of the university and as a founding member and deputy chairperson of the Association of Socioeconomic Education and Research.
Prof. Azza Karam (Vrije Universiteit Amsterdam)

Azza Karam is the Secretary General of Religions for Peace International, and Professor of Religion and Development at the Vrije Universiteit in Amsterdam, The Netherlands. Previously, she served as the Senior Advisor on Culture at the United Nations Population Fund (UNFPA); Coordinator/chair of the United Nations Inter-Agency Task Force on Religion and Development; Senior Policy Advisor at the United Nations Development Program (UNDP)'s Regional Bureau for Arab States; and President of the Committee of Religious NGOs at the United Nations. She was the Lead Facilitator for the United Nations' Strategic Learning Exchanges on Religion, Development and Diplomacy, building on a legacy of serving as a trainer cum Mediator on intercultural leadership and management in the Arab region as well as in Europe, Africa, and Central Asia.
Dr. Ingrid Harvold Kvangraven (University of York)

Ingrid Harvold Kvangraven is a Lecturer in International Development at the University of York, UK. She holds a PhD in Economics from The New School and her research focuses on the history of thought, global trade and development finance. She founded Developing Economics and is on the management committee of the Association for Heterodox Economics.
Dr. Fred Muhumuza (Makerere University)

Fred K. Muhumuza holds PhD (Development Economics) from the University of Manchester, a Masters in Economic Policy and Planning from Makerere University, and A Certificate in Development Evaluation by Carleton University and World Bank.
Muhumuza has experience of over twenty years in development policy research, analysis, policy formulation and review, with a parallel teaching career at Makerere, Nkumba, and African Bible Universities. He has undertaken assignments in public policy, institutional development, strategic planning, and capacity building. He has served as an Economic Advisor to Government of Uganda, a Research Fellow at the Economic Policy Research Centre, a Senior Manager at KPMG Uganda and Research Specialist with the Financial Sector Deepening Uganda. Muhumuza has provided political economy advice to a number of development programmes funded by development partners as well as to the private sector.
In areas of strategic planning and governance, Muhumuza is a member of the following Boards or Councils: Bank of Baroda Uganda; Vision Fund Uganda; Uganda Christian University; African Forum and Network on Debt and Development; and Scripture Union of Uganda. He has also served on the following Boards: World Vision Uganda; Bank of India Uganda Limited; and Post Bank Uganda Limited.
Athena Peralta (World Council of Churches)

Athena Peralta is from the Philippines and serves as programme executive for economic and ecological justice at the World Council of Churches. Her research and advocacy focus on the intersections between economic, ecological and gender justice. She has a background in economics, with a masters degree in economics of development and post-graduate diploma in feminist development economics from the Institute of Social Studies, Erasmus University, in The Hague, the Netherlands. Previously she was senior economic development specialist at the National Economic and Development Authority of the Philippines.
Prof. Dr. Adam Tooze (Columbia University and Director of the European Institute)

Professor Adam Tooze teaches and researches widely in the fields of twentieth-century and contemporary history. From a start in modern German history with a special focus on the history of economics and economic history his interests have widened to take in a range of themes in political, intellectual and military history, across a canvass stretching from Europe across the Atlantic. His most recent book was Crashed: How a Decade of Financial Crises Changed the World (2018).

Ivonne Yanez (Accion Ecologica, Ecuador)

Ivonne Yanez is founder member of Accion Ecologica, Ecuadorian environmental organisation in defence of collective and nature rights since 1986 and also Oilwatch, oil activities resistance network, founded in 1996.
Ivonne works on energy, climate change and, more recently, environmental services.
She has been an active promoter of the Keep the Oil in the Soil campaign for many years, with Yasuni as the emblematic case.
Prof. Dr. Aram Ziai (University of Kassel)

Aram Ziai teaches and conducts research in the field of development policy and postcolonial studies at the University of Kassel. He has previously conducted research and taught in Tehran, Accra, Bonn, Hamburg, Vienna and Amsterdam. He is a member of Kassel postcolonial, medico international and the Bundeskoordination Internationalismus (UKO).