Summer Academy for Pluralist Economics 2020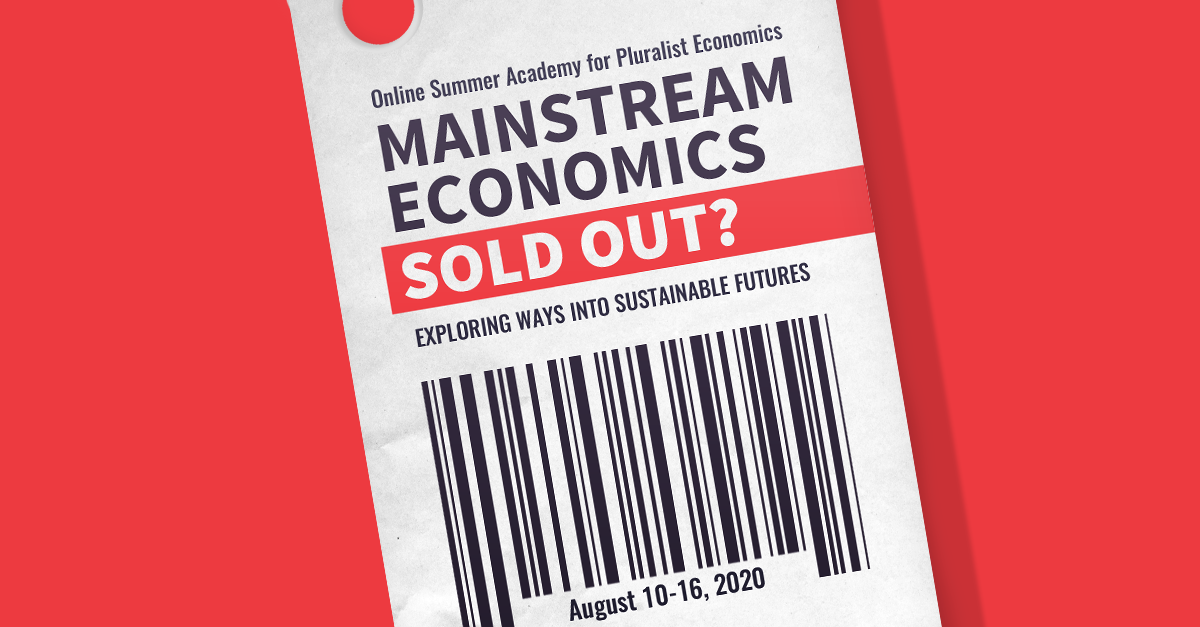 Do you feel that our society is facing great challenges that need to be answered economically and politically?
Do you ask yourself how we can analyze, understand and reshape our economy?
Current discourses on economic policy are characterized by catchwords like "lack of alternatives", "growth" or "the hard facts". Our answer: The economy is a multifaceted and complex phenomenon. The approaches of mainstream economics, however, are too limited and one-dimensional to fully comprehend it and offer little room for critical reflection.
With our summer academy, the time has come to change this: You will have the opportunity to give free rein to your curiosity and thirst for knowledge, learn about alternative approaches to economics and exchange ideas with like-minded students, inspiring activists and leading academics. We have prepared an exciting program for you, consisting of different one-week workshops and a rich evening program.
With this year's online event that will be held from August 10 to 16, 2020, we will move into hitherto undiscovered terrain. Our main goal, however, stays the same: to put another form of economic education into practice. This is why we are very happy to announce that more than 140 participants and almost 30 lecturers will be part of the Online Summer Academy for Pluralist Economics! They are from over 40 countries, with very diverse backgrounds and a deep interest in pluralism in economics. Thanks to funding partners, sponsors and individual solidary contributions, 40 full scholarships could be granted to people from all around the world.
Brought to you by the Network for Pluralist Economics and the Protestant Academy of Thuringia.
We have organised a number of workshops which ran in parallel throughout the week. Each one focused on an alternative approach to economics or economic policy and offered a comprehensive introduction into the subject matter. Find interesting reading lists, summaries and other creative results here read more...
This year's summer academy will be marked by the COVID-19 pandemic – not least because we had to change the overall concept into an online format. In fact, we want to take the coronavirus crisis as a starting point to question our current economic system as well as to rethink the unequal North-South relations that characterize our postcolonial world order. read more...
To be able to learn from and debate with each other on an equal footing, we aim to further internationalize this movement. That is why we set up a global training program for participants from the global south as an extension to the Online Summer Academy for Pluralist Economics. This programme ran from July 2020 to November 2020. read more...
You'd like to find out more about what's happening at the Summer Academy? With this schedule, you will have the programme at a glance. read more...
We have invited thought-provoking experts and leading scholars from various backgrounds to share their insights with us in different engaging formats, for example, panel discussions. read more...
We have invited thought-provoking experts and leading scholars from various backgrounds to share with us their insights. read more...
We are a group of students from all over the world. We have waited long enough for universities to change curricula in favour of more pluralism and diversity, and are therefore taking matters into our own hands - the Summer Academy is the kind of education we want. read more...
If you have any questions or want to get in touch with us - just drop us a message. read more...