Global Pluralist Economics Training 2020

Decolonize economics! - Global Pluralist Economics Training
...the train-the-trainer program accompanying the Online Summer Academy 2020
The present global economic relationships are complex and diverse – the answers of mainstream economics education, however, are often one-sided and mono-dimensional. Disappointed by the lack of pluralism and critical thinking in economics teaching, students and young scholars of the Network for Pluralist Economics Germany are organizing this year's Online Summer Academy for Pluralist Economics together with the Protestant Academy of Thuringia.
However, as in mainstream economics, perspectives and academics from the global south are underrepresented in the movement for pluralism in economics so far. Especially when discussing topics like unequal development opportunities due to the long legacy of colonialism or the coronavirus crisis, it is precisely the exchange between young people from the global north and the global south that is indispensable.
In order to be able to learn from and debate with each other on an equal footing, we are striving to further internationalize the pluralist economics movement. We want to diversify the discourse on a sustainable and just global economy by taking into account perspectives from the global south as well as the global north. Therefore, more educational events on these topics should take place locally and online in the global south. We are looking for inspiring people that are motivated to implement such educational events. This is why we established the Global Pluralist Economics Training - in cooperation with Heinrich-Böll-Stiftung e.V. - as an extension to the annual Summer Academy for Pluralist Economics in Germany.
What does the program consist of?

The training consists of five online workshops for academic exchange and organisational capacity building from July through October 2020. These workshops will be complemented by additional online meetings in which the participants share their expertise and can facilitate additional capacity building modules. The meetings will also provide an open space for the discussion of any upcoming issues. Besides the workshops and meeting, participation in the Online Summer Academy for Pluralist Economics (Aug 10-16, 2020) is also included.
What will the online workshops be about?
They will provide capacity building and foster knowledge exchange with the central goal to strengthen the organization of similar educational formats around the world. Therefore, they will include organizational as well as technical training. Besides the workshops, the participants have the possibility to connect with the Summer Academy organising team to draw from their experiences and networks.
Will the participation in the Online Summer Academy be part of the training?
Yes, participants in the Global Pluralist Economics Training programme will participate in the Online Summer Academy. Here you can read more about the Summer Academy.
What will happen after the program?

The Network for Pluralist Economics Germany wants to transform the economics curriculum by creating new learning spaces like summer schools, writing workshops and e-learning platforms.

We encourage the trainees to organize their own workshops in the second half of the year together with possible partners like universities, political foundations and/or NGOs. This could be a first step towards a second Summer Academy of Pluralist Economics or a similar educational event that would take place in the so-called countries of the global south. Such long-term exchange and networking would surely strengthen the global movement for pluralism in economics.

Furthermore, we would like to strengthen our e-learning platform Exploring Economics, which currently offers more than 700 learning resources for 25,000 monthly visitors. With the Global Pluralist Economics Training, we want to anchor the e-learning platform in countries of the global south and overcome its global north bias. In this regard, we would like to cooperate with the trainees in order to find possible project partners from the global south as well as volunteers who could help us to improve and promote Exploring Economics.

The tragic pandemic situation can be a push to develop educational events and other online formats that use the innovative possibilities of online learning and pluralist economics. The Online Summer Academy and the Global Pluralist Economics Training can encourage this.
Who can apply for the program?

Are you from a country of the so-called global south (Africa, Latin America or Asia)? Are you a student, PhD candidate or working in any other way in economics or a related discipline? Are you seeking a more pluralist, a more sustainable, a more socially oriented stance of economics? If so, we encourage you to apply for the Global Pluralist Economics Training. Are you involved with local or regional pluralist economics groups or networks like Rethinking Economics or De America Soy? Even better!

One of the main goals of our program is to support and strengthen your work in your home country. This will be easier in a group. So, please tell your colleagues and friends about this program. Maybe they would like to apply too? Of course, you will apply individually, but we think that things will be easier if you can work in a local team.

We want to make the Global Pluralist Economics Training as inclusive as possible. Therefore, we highly welcome applications from women and other less represented voices in academia.
Are there any costs?

No, there is no participation fee. Since the programme is online, you will need to have access to a computer and a stable internet connection. If necessary we can support you by covering internet usage costs.
How can I apply?

To apply for the Global Pluralist Economic Training, please fill out the form below AND attach a motivational statement (1 page) + your CV (without a photo) at the end of the form.

The motivational statement should touch upon the following questions:
Why do you want to join our training?
In which way are you already / do you want to be involved in the global movement for pluralism in economics?
How, you think, could you benefit from our training?
Our organizing team will review all applications and get back to you as soon as possible. We have a limited number of places to offer in this programme and will have to select from the applicants if there are more applications than seats.
The deadline for applications was June 7 and is now closed.
Preliminary schedule

Note that – in order to meet your needs and wishes with some flexibility – the topics of the workshops are preliminary. We will determine parts of the final program together with you.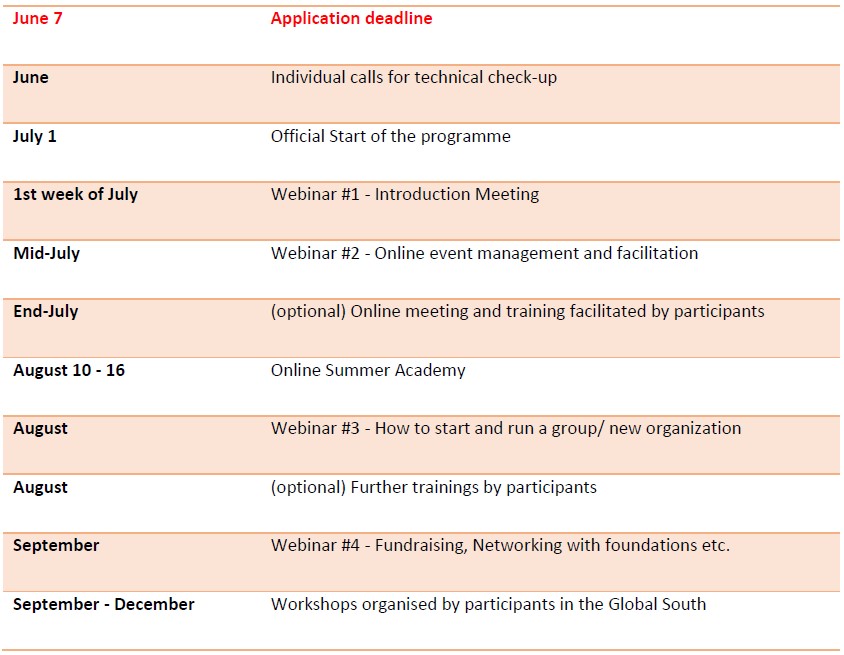 Navigation through the Online Summer Academy 2020