Global Pluralist Economics Training 2021

Decolonize economics! - Global Pluralist Economics Training 2021
Welcome to the Global Pluralist Economics Training program! The present global economic relationships are complex and diverse – the answers of mainstream economics education, however, are often one-sided and mono-dimensional. Disappointed by the lack of pluralism and critical thinking in economics teaching, students and young scholars from all around the globe are trying to tackle these challenges.
However, as in mainstream economics, perspectives and academics from the global south are underrepresented in the movement for pluralism in economics so far. Especially when discussing topics like unequal development opportunities due to the long legacy of colonialism or various crises, like the current COVID-19 pandemic, it is precisely the global exchange between young people that is indispensable.
In order to be able to learn from and debate with each other on an equal footing, we are striving to further internationalize this movement. We want to diversify the discourse on a sustainable and just global economy. Therefore, more educational events on these topics shall take place online and locally in the global south. We are looking for inspiring people that are motivated to implement such educational events. This is why we established the Global Pluralist Economics Training (GPET).
What does the program consist of?
The Global Pluralist Economics Training consists of
Four to five online workshops on organisational capacity building from July through October 2021.
Participation in the Online Summer Academy for Pluralist Economics* (July 30-Aug 6, 2021) of learning and academic exchange - find more information here.
Five to six additional online meetings of networking, sharing expertise and feedback.
Educational events organised by the participants themselves.
What will the online workshops be about?

The online workshops will provide capacity building and foster knowledge exchange with the central goal to promote organising similar educational formats around the world. Therefore, they will include organizational as well as technical training. The detailed topics that will be covered in the online workshops will be determined based on the trainees' needs and wishes. The workshops will be facilitated by members of the global Rethinking Economics network and other local groups that have experience in campaigning for Pluralism in Economics. Also, the participants will have the possibility to connect with the Summer Academy organising team to draw from their experiences and networks.
How about the costs?

There is no participation fee. You can be a trainee free of charge. Since the programme will run online, the only thing you need is access to a computer and a stable internet connection. If necessary, we can support you by covering internet usage costs.

You can have a look at the highlights from last years Global Pluralist Economics Training 2020 here.

*You can also apply for the Summer Academy without participating in the GPET program if this would better suit your interests.
What are the objectives of the program?
The main goal of the Pluralist Economics Movement is to transform the economics curriculum by creating new learning spaces like summer schools, writing workshops and e-learning platforms.
We want to encourage the trainees to learn from the activities of the global Pluralist Economics movement so that they organize their own workshops in the second half of the year together with partners like universities, political foundations and/or NGOs. Such long-term exchange and networking will surely strengthen the global movement for pluralism in economics.
To achieve this, we share the resources of our e-learning platform Exploring Economics (www.exploring-economics.org), which currently offers more than 1000 learning resources for 34,000 monthly visitors. We want to make this e-learning platform available to teachers and students in countries of the global south so that they can contribute to and draw from it. Through cooperating and collaborating with the GPET trainees we would like to find project partners as well as volunteers to improve and promote Exploring Economics.
Who can apply?
Are you from a country of the so-called global south (Africa, Latin America or Asia)? Are you a student, PhD candidate or working in any other way in economics or a related discipline? Do you seek a more pluralist, a more sustainable, a more socially oriented stance on economics? If so, we encourage you to apply for the Global Pluralist Economics Training. Are you involved with local or regional pluralist economics groups or networks like Rethinking Economics or De América Soy? Even better!
One of the main goals of our program is to support and strengthen your work in your home country. This is always easier in a group. So, please tell your colleagues and friends about this program. Maybe they would like to apply too?
We want to make the Global Pluralist Economics Training as inclusive as possible. Therefore, we highly welcome applications from women and other less represented voices in academia.
How can I apply?
To apply for the Global Pluralist Economics Training, please fill out the form below AND attach a motivational statement (1 page) + your CV (without a photo) at the end of the form.
The motivational statement should touch upon the following questions:
Why do you want to join the Global Pluralist Economics Training?
In which way are you already / do you want to be involved in the global movement for pluralism in economics?
How do you think you would benefit from our training?
Our organizing team will review all applications and get back to you as soon as possible. Participation in the GPET program is limited. We will have to select from the applicants if there were more applications than seats.

The application period is closed!
Schedule
We develop the final program together with the GPET participants, but here is a preliminary schedule: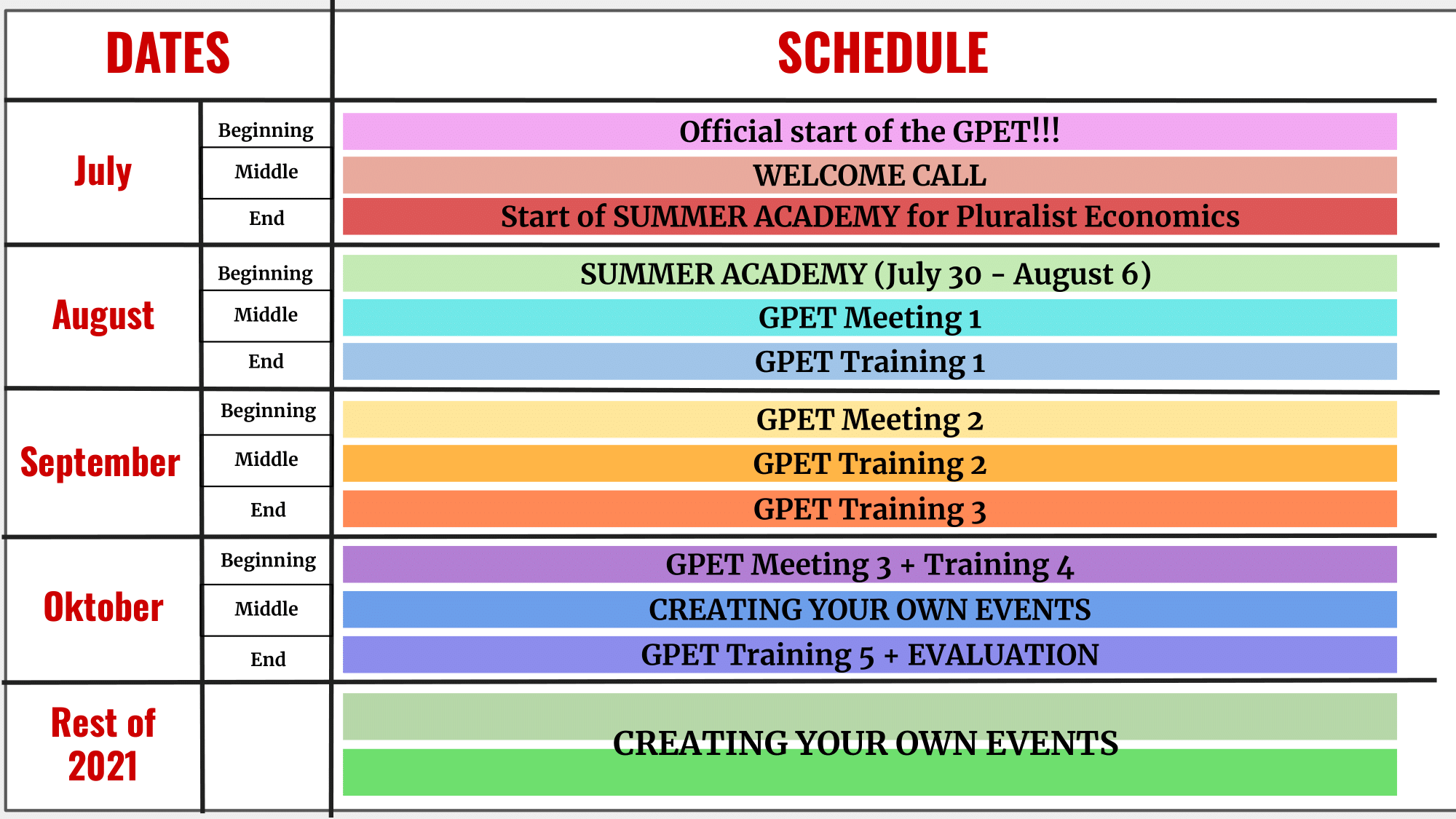 Who is organising this program?
We have waited long enough for universities to change curricula in favour of more pluralism and diversity, and are taking matters into our own hands with the Global Pluralist Economics Training.
As in previous years, Exploring Economics is joining forces with the Protestant Academy of Thuringia in organizing the Global Pluralist Economics Training as well as the Summer Academy. As a vivid actor in civic education, the Evangelische Akademie Thüringen offers rooms for civil discourse about the conditions of a democratic, liberal and just society. We as Exploring Economics are the e-learning project of the Netzwerk Plurale Ökonomik, which also consists of many different local groups across Germany.
We are cooperating with Rethinking Economics India, Rethinking Economics International, De América Soy and Open Economics Uganda. Rethinking Economics International is an even bigger network with lots of local groups globally. RE India and De América Soy, a network of Latin American organizations, advocate for pluralism in economics in their regions. The ISIPE is active worldwide to promote diversity in economic theory and methodology as well as to foster interdisciplinary exchange and cooperation. Our summer academy proves that this kind of cooperation is indeed possible.
The Global Pluralist Economics Training (GPET) is mainly supported by the Heinrich-Böll Foundation, which is a political foundation close to the party Bündnis 90 / Die Grünen in Germany. The foundation sees itself as an agency for green ideas and projects, as a reform policy future workshop and international network with partner projects in around 60 countries.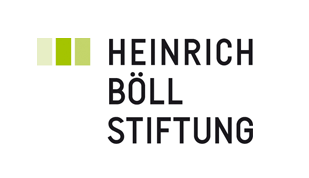 Let us know if you have any questions or want to get in touch with us. We are looking forward to your message.