Online Summer Academy 2022: Evening Program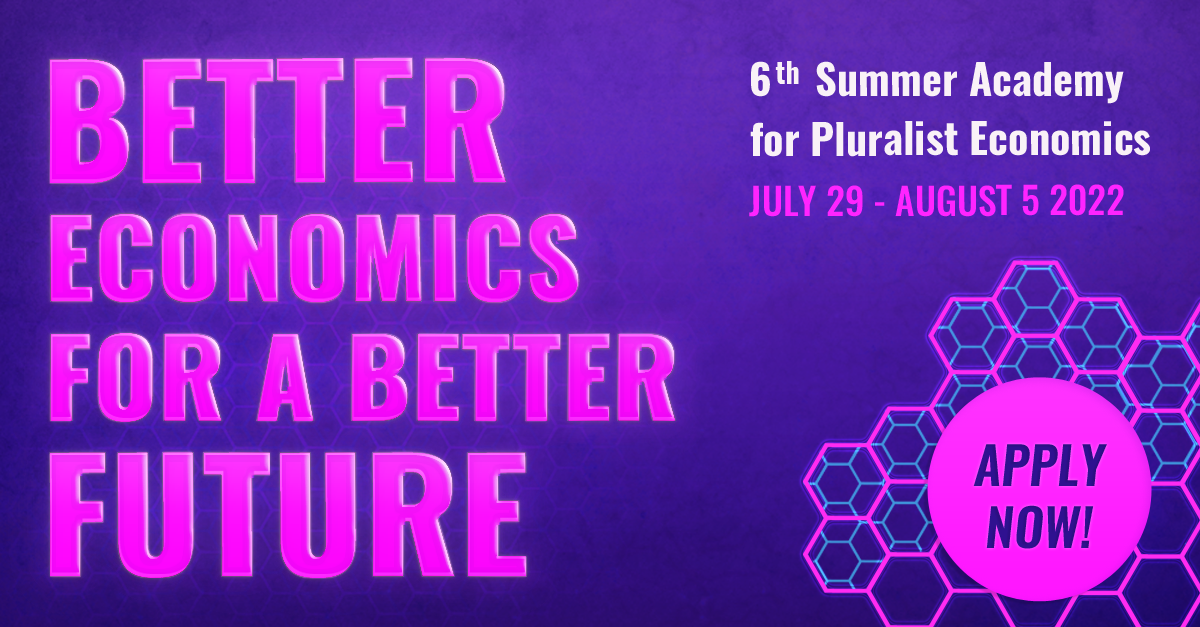 The evening program is an essential component of the Online Summer Academy. It is comprised of five intriguing panels and lectures that are of interest to all participants and the public. We will be joined by speakers who are experts on and passionate about the questions at hand. They will share their views with us and discuss their insights with the Summer Academy's participants. After the Summer Academy, the lectures and panel discussions will be made publicly available so that participants from all time zones can benefit from them.
---
Friday, July 29: 7:00 - 8:30 pm (Berlin, UTC+2). Other time zones
Economics from the Perspective of the Global South
Surbhi Kesar
In this evening lecture Dr Surbhi Kesar will critically engage with eurocentric conceptualisations of informality and lay out potential elements of a South-centric framework to understand economic issues around informality. We will focus on the following questions: What is euro-centrism in economics and how can we identify the embedded euro-centrism in dominant economic theories? What could be some elements to develop a South-centric framework? Is the issue of labor and informality in economics studied from a global North-centric perspective? What can be a South-centric perspective to the issue of labor and informality?
---
Sunday, July 31: 7:00 - 8:30 pm (Berlin, UTC+2). Other time zones
The Concept of Doughnut Economics by Kate Raworth
Leonardo Conte
We begin by scrutinizing the role that economic theory – and by extension, economic policymaking practice – plays in climate change. In this context, we discuss the value of an underlying theory for (economic) policymakers and practitioners which offers a comprehensive understanding of the economy and its core functions. All too often, the economy is conceptualized as a system separate from our natural surroundings and the society as a whole, which results in the negligence of the planet's and people's needs. Against the backdrop of rising global pollution and persistent environmental degradation, the 'beyond GDP' movement has gained momentum. Among the various concepts associated with this line of thought, the idea of Doughnut Economics gained much international accolades. First published in 2012 in an Oxfam report by the British economist Kate Raworth, the concept rapidly gained popularity and acceptability internationally. Kate's 2017 book, Doughnut Economics: Seven Ways to Think Like a 21st Century Economist, explored the economic thinking needed to bring humanity into the Doughnut. The concept of Doughnut Economics turns the conventional understanding of the interlinkage of the economy with nature and society upside down by arguing that the economy needs a safe and just operating space in which it both respects biophysical ceilings and meets social needs. Arguing that a new economic paradigm may contribute to the reversal of these detrimental misunderstandings, the lecture will introduce Doughnut Economics as a more holistic concept of the economy. Finally, we raise the question: How can we create an economy that, instead of intrinsically relying on negative externalities, produces positive spillover effects?
---
Monday, August 1: 7:00 - 8:30 pm (Berlin, UTC+2). Other time zones
Revisiting Role of Public vs. Private Institutions: Debate in the Backdrop of a Global Health Crisis
More information will follow soon.
---
Tuesday, August 2: 7:00 - 8:30 pm (Berlin, UTC+2). Other time zones
Climate Policy: Is Carbon Pricing the Ultimate Solution?
Prof. Samantha Ashman (University of Johannesburg), Fausto Corvino (Sant'Anna School of Advanced Studies), Mariana Inés Micozzi (Germanwatch e.V.), Dr. Sanjay Patnaik (Center for Regulation and Markets; Brookings)
In recent years, philosophers, economists, and political scientists dealing with climate change seem to agree on one point: A carbon tax reform, if properly structured, could be the magic recipe for tackling the climate crisis. It allows overall emissions to be reduced without curtailing the disposable income of the poorest, but rather increasing it. The carbon tax thus seems to yield a triple dividend: mitigation effectiveness, efficiency in allocating emission cuts (the market takes care of that), and fairness (relative to income, it is not regressive). In this panel, we will explore the question of carbon pricing from multiple angles by laying out the economic rationale for carbon pricing and complementing it with critical perspective on market-based solutions to climate change. This discussion will be exemplified by a case study from the Global South, namely the introduction of a carbon tax in Argentina. Lastly, we touch upon a less explored issue, namely the low behavioral plasticity of the global top 1%, which could result in a carbon tax reducing the possibilities of the poorest to transform income into emission-generating actions, but leaving the richest free to do as they wish.
---
Wednesday, August 3: 7:00 - 8:30 pm (Berlin, UTC+2). Other time zones
Sustainable Development Goals (SDGs) to Transform Our World: Contributions from Economics
More information will follow soon.