Summer Academy for Pluralist Economics 2019: Organization Team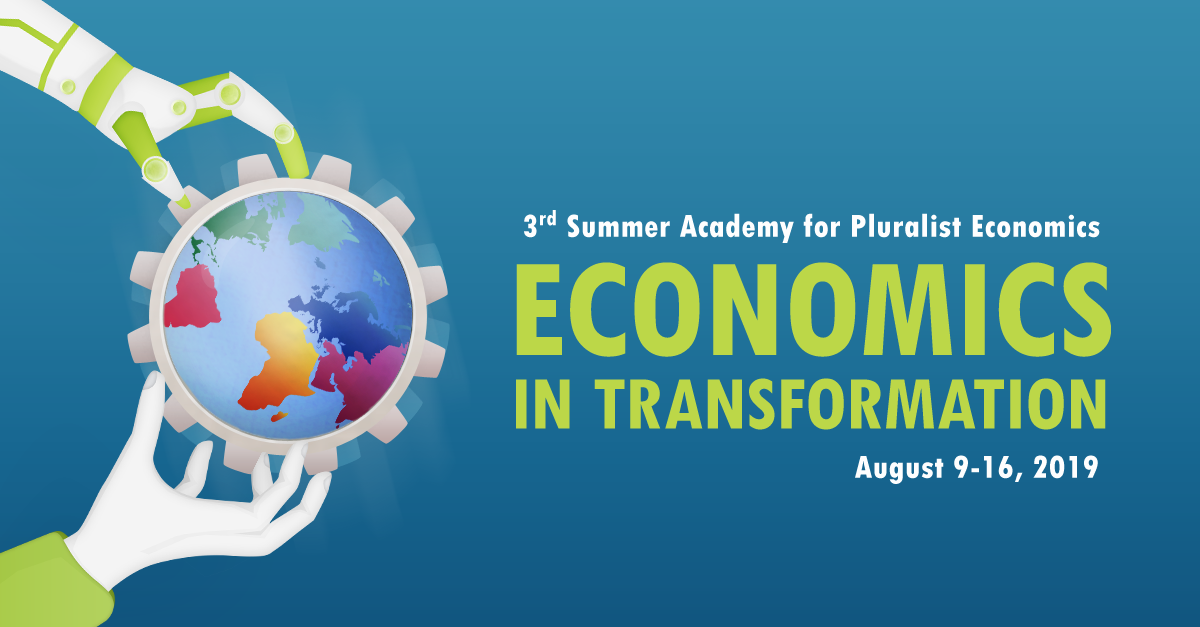 We are a group of students from all over Germany (and beyond). We have waited long enough for universities to change curricula in favour of more pluralism and diversity, and are therefore taking matters into our own hands - the Summer Academy is the kind of education we want.

We are members of the Netzwerk Plurale Ökonomik (Network for Pluralist Economics) and the International Student Initiative for Pluralism in Economics. The Netzwerk has local groups from many universities in Germany and ISIPE is active worldwide for diversity in theories and methods as well as interdisciplinary exchange and cooperation. Our summer academy proves that this is possible.

For the Summer Academy, we joined forces with the Protestant Academy of Thuringia. They have a picturesque and historic conference centre with a spacious park. As a vivid actor in civic education, the Evangelische Akademie Thüringen offers rooms for civil discourse about the conditions of a democratic, liberal and just society.
Let us know if you have any questions or want to get in touch with us. We are looking forward to your message.
Team
Dato Aronia holds a B.A. in Politics, Philosophy and Economics from the University of Pennsylvania. He is currently finishing his M.Sc. in Institutional Economics at Phillips University Marburg, Germany. For his master's thesis, he is researching the preconditions for just and sustainable economic development using game-theoretic modelling.
Leoni Fiekas studies law at Göttingen University, Germany, and works at the General State Theory and Political Sciences Institute. She has been a participant of the 2017 Summer Academy for Pluralist Economics and co-organised the 2018 instalment..
Miriam Fischer studied Economics at the Ludwig Maximilians University in Munich and is currently studying Computer Science at the LMU Munich and the University of Liverpool. She is looking for more interdisciplinarity in academic teaching and is particularly interested in the different approaches to game theory.
Alexandra Jussli completed her Bachelor's degree in Sociology and Business Administration at the Eberhard Karls University in Tübingen and is currently studying interdisciplinary labour market research at the University of Erlangen-Nuremberg. She works at the Fraunhofer Institute for Supply Chain Services in a working group dealing with Behavioral Economics and Behavioral Sciences.
Holger Lemme holds a degree in communication sciences. For the past five years, he has been in charge of the academic program of Protestant Academy of Thuringia in the field of labour and economic affairs. He was part of the 2017 and 2018 organising committee.
Merle Spellerberg studied International Business and Politics at the Copenhagen Business School and is continuing her studies of International Relations at Technical University Dresden.
Hannah Worringer lives, studies and works in the Netherlands. She is currently preparing for her master's thesis (M.Sc. Research Social and Cultural Sciences) and is involved in development education.
Lucas Wotzka graduated in 2018 from the University of Leipzig with a bachelor's degree in Political Science, majoring in Political Economics and minor in Physics. He is currently working at the university's Chair of International Relations.