Summer Academy 2021: Questions & Answers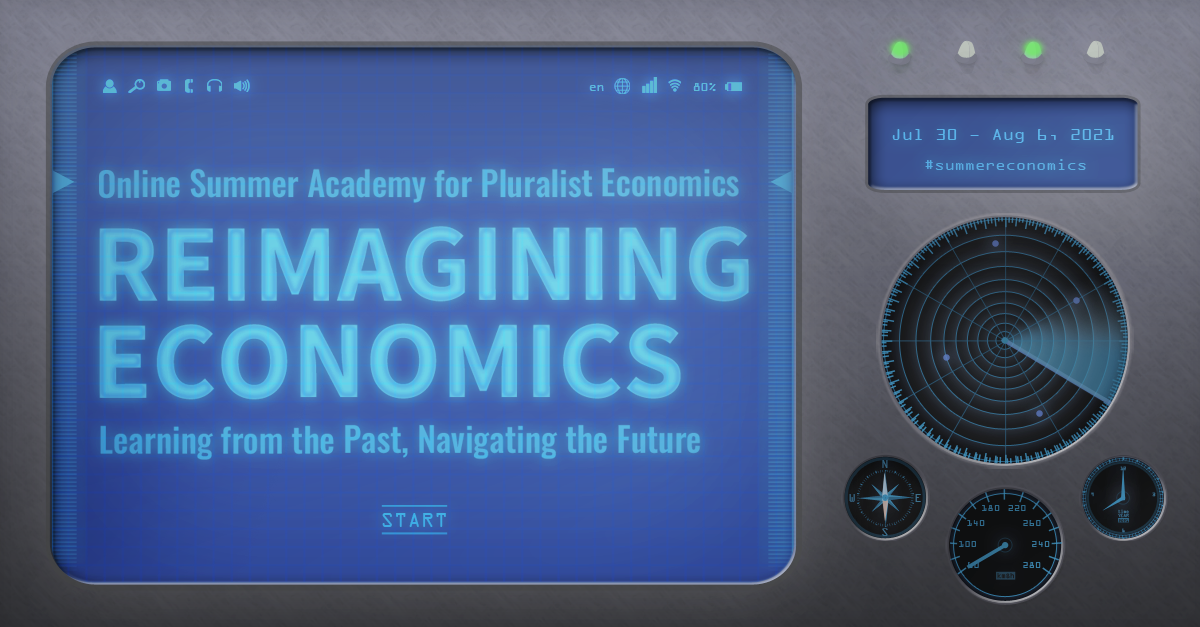 ---
About the Summer Academy
---
What is the Online Summer Academy for Pluralist Economics?
The Summer Academy for Pluralist Economics is an event by and for people who think that economics has more to offer than what is taught in most courses. The Summer Academy is an opportunity for interested students to engage with heterodox economics. The goal is to spark a debate about if and how these approaches can complement, challenge, or shift the economic mainstream.
The Summer Academy has taken place annually since 2017. The first three Summer Academies were held in Neudietendorf, Germany. After 2020, this is the second time we will conduct the Summer Academy online.
12 workshops dedicated to different economic approaches are at the core of the Summer Academy. In these workshops, small groups of around 10 students come together three times a day throughout a week to learn about one specific school of thought or issue and to work on a group project. The workshops are facilitated by experts in their respective fields.
The evening programme is the Summer Academy's second pillar. Panel discussions and lectures invite the participants to engage with their fellow participants and topics beyond their workshops.
Additionally, there are open spaces and networking opportunities throughout the week. That way, the participants can engage with each other, and share and exchange perspectives regarding the Summer Academy's theme, their workshops, their view on economics and the economy.
Find an overview of past Summer Academies here.
Who is behind the event?
The summer academy is co-hosted by the Netzwerk Plurale Ökonomik e.V. (Network for Pluralist Economics) and the Evangelische Akademie Thüringen (Protestant Academy of Thuringia).
Over the last years, the Network for Pluralism in Economics has become a dynamic student movement with substantial impact on debates surrounding the current state and future of economics as a discipline in academia. It is a member of the International Student Initiative for Pluralism in Economics (ISIPE) which unites more than 100 student initiatives from over 40 countries worldwide.
The Evangelische Akademie Thüringen is an educational institution of the Protestant Church of Central Germany, which contributes to public debates around democracy, freedom, and justice by organizing conferences, workshops, and other events. Its aim is to create a forum of exchange between people from different backgrounds and beliefs on the fundamental issues of humanity, religion, and the world.
To make this event possible, we cooperate with partners like the Bundeszentrale für politische Bildung, the Heinrich Böll Stiftung, the Institute for New Economic Thinking and the Institut für Makroökonomie und Konjunkturforschung (Macroeconomic Policy Institute). Our partners support the academic and organizational setup of the Summer Academy and/or contribute financially.
The planning is in the hands of an organizing team consisting of (mostly) volunteers who took part in earlier renditions of the Summer Academy.
Meet this year's organizing team here.
---
About this year's edition
---
What is this year's theme?
This year's theme is "Reimagining Economics: Learning from the Past, Navigating the Future."
The theme is an invitation to challenge economic orthodoxy and to engage with heterodox approaches - to reimagine economics.
Economic ideas are always shaped by the historic context they emerge from. Power relations as well as dominant cultural and social ideas have an impact on theorising. Of course, this relationship goes both ways: Economic thought impacts policies and the ways in which societies organize themselves.
Therefore, it is important to reflect on the past. However, looking backwards must not be an end in itself. The goal is to ask the right questions in order to make sure that mistakes are not repeated and preconceived notions are challenged:
Against the backdrop of what historical contexts and power relations has economic theory been developed? How has economic theory impacted people's lives and continues to do so? Are the theories and models we are using helpful for understanding and solving today's problems? Are there heterodox approaches that can help us to better respond to current challenges? We want to ask these questions, because we believe they are key to making sure that economics as a discipline contributes to navigating towards a just and sustainable future for all.
Given the different crises humanity is facing, it might be tempting to focus on ready-made economic solutions and to postpone fundamental academic debates to the future. We are still in a global pandemic, the climate and biodiversity crisis are unfolding, inequalities, discrimination, polarization, and a lack of opportunities for democratic participation are affecting people's lives around the world.
We agree that today's challenges are manifold. However, we think that the tools heterodox economics have to offer are, too. It is high time to stop clinging to economic orthodoxy and to instead ask what pluralist alternatives have to offer.
What will the workshops be about?
The workshops can be thought of as the core of the online Summer Academy. Their overall goal is to complement the neoclassical mainstream of economic thinking by additional and alternative perspectives. Each workshop will be dedicated to a specific school of thought or economic issue.
There will be fifteen workshop sessions of 90 minutes each that combine phases of interactive lecturing, collaborative teamwork, and periods of individual work. Each workshop group of around ten participants will be guided by one or several facilitators. The workshop groups will work together in producing a common output which will be made publicly available on the e-learning website www.exploring-economics.org. The groups' outputs may be used as a reference by future summer academy participants and as an e-learning resource by students and teachers all over the world.
You can find out more about the workshops here.
What about the evening program?
We have planned intriguing panels and lectures that are of interest to all participants and the public. We will be joined by speakers who are experts on and passionate about the questions at hand. They will share their views with us and are looking forward to discussing with the Summer Academy's participants. The lectures and panel discussions will be made publicly available so that participants from all time zones can benefit from them.
Here you can find out more about the evening program.
How is a one-week online event even possible?
The Summer Academy aims to provide high-quality teaching as well as opportunities for participants to get to know each other, to discuss, and to exchange ideas. The workshops are interactive with an emphasis on collaborative learning. The evening program will offer food for thought beyond the workshops and everyone is invited to shape the Summer Academy by participating in and taking responsibility for one of the open spaces.
Which platforms and tools will be used?
We will use Google Workspace which allows us to chat, have video conferences, as well as to edit, store, and share documents.
---
Application & Participation
---
When and where will the event take place?
The Online Summer Academy 2021 will take place from July 30 to August 6. The Summer Academy will take place online. You can find the schedule here.
What technical equipment do I need to participate?
We will provide access to a video conferencing software and an online collaboration platform.
You will need a stable internet connection throughout the week as well as a device you can use for video conferences (computer or tablet with webcam and headset). This will make it easier for you to connect with you fellow participants which is an important part of the Summer Academy.
If the requirement to have a stable internet connection is a challenge for you, feel free to contact us. We are happy to help you find a solution.​
Can I participate in only a few events?
If you want to participate in a workshop, you will be expected to join all fifteen sessions. However, some sessions may be dedicated to group or individual work or may be recorded and thus made available for later access (which may be more convenient if you are in a different time zone).
The evening program is open to everyone. Of course, it is best to participate live so that you can take part in the discussion. However, as the timing may not be convenient for participants from all time zones, we will record lectures and panel discussions. This way everyone can watch the recordings at their convenience.
The open spaces are time slots during which participants can shape the Summer Academy's program. We highly recommend participating in a few of them in order to get the full experience.
We are aware that committing to a whole week of learning can be difficult depending on your personal situation. If you would like to participate but are unsure if you are able to do so, e.g. due to childcare responsibilities, feel free to contact us.
Who can apply? What are the selection criteria?
If you are reading this, you are most likely eligible to apply: Everyone who is eager to learn about and discuss pluralist economics is invited to join us.
Many participants are students of economics or a neighbouring discipline. The Summer Academy provides an opportunity to learn about approaches not typically part of the standard syllabus. We also encourage students from other academic backgrounds to apply. Challenging the hard lines often drawn between different disciplines is key to many heterodox approaches.
We are open to undergrad and postgrad students as well as recent graduates. Eligibility to apply is not connected to a specific status. We are striving to have participants with diverse biographies.
Thanks to the online format of this year's Summer Academy, we are looking forward to applications from around the world.
The event will be conducted in English. You will therefore need to be able to converse in English.
We will try to accommodate as many applicants as possible. The goal is to make sure that there will be vibrant discussions in every workshop group. Our application process is designed to help us understand why you want to participate, why you are interested in a specific workshop, and whether you will actively participate in the programme.
If you are not sure whether you can apply or feel that you are facing an obstacle that we have not considered, feel free to contact us.
Here you can find out more about the application process.
When can I apply?
Applications are open from 3 June 2021. The deadline for applications is 20 June 2021 (11.59 pm/CEST).
Do I have to pay a participation fee?
Yes, we will ask you for a small financial contribution. However, we want to make sure that this cost will not exclude anyone from participating.
There will be a regular participation contribution of 20 €.
If you can, please consider paying more. Your solidarity contribution will help others participate.
If it is difficult for you to pay the regular contribution, please let us know in the application form. We will contact you to find an individual solution.
A lot of money goes into the Online Summer Academy 2021. We are thankful for our funders and partners who cover most of our expenses and allow us to keep participation fees low.