Global Pluralist Economics Training 2022

Global Pluralist Economics Training 2022 - Decolonizing Economics
In order to be able to learn from and debate with each other on an equal footing, we are striving to further internationalize the movement for pluralism in economics. We want to diversify the discourse on a sustainable and just global economy. Therefore, we established the Global Pluralist Economics Training (GPET) to challenge mainstream economics and add perspectives that are underrepesented.
In 2022 we held our third round of the GPET (Global Pluralist Economics Training) with 20 motivated participants from different countries of the Global South. They attended a number of different trainings as well as additional meetings. Towards the end of the GPET program participants organized their own online, local or hybrid event. Together with highly qualified facilitators we talked about what "Decolonize, Decolonizing and Decolonization" means, how to question our economics curriculum and how to include a Decolonizing Economics Perspective into the Pluralist Economics Movement. Our participants also attended our Summer Academy for Pluralist Economics, which took place from July 29 until August 5, 2022.
What did the program consist of?
The training consisted of five online training workshops on organizational capacity building from August to September 2022. These workshops were complemented by several online meetings, in which the participants shared their expertise and brainstormed together. The meetings also provided an open space for the discussion of upcoming issues. Besides the workshops and meetings, participation in the Online Summer Academy for Pluralist Economics (Jul 29- Aug 5, 2022) was also included for which there was no need for an additional application.
What were the online workshops about?
The workshops provided capacity building and fostered knowledge exchange with the central goal to strengthen the organization of similar educational formats around the world. Besides the workshops, the participants had the possibility to connect with the Summer Academy organizing team to draw from their experiences and networks. You can see the planned workshops and meetings in the table below.
The program began with an introduction workshop to develop a better understanding of what Decolonizing Economics means. With this knowledge as a foundation, we looked at how we can change our economics curriculum and start to ask questions. For this curriculum change movement to be successful, we need to work together. Therefore, we had a workshop on "Being part of the Rethinking Economics movement", in which we talked about how to build a local group or how to organize an event amongst other things. Additionally to this, we talked about fundraising skills and possibilites to get funds for our local or global projects, with experts from different Rethinking organizations. The workshop series ended with "Decolonizing Economics. Next Steps", here we talked to different actors in this field: What do they do to decolonize economics and how do they do it?
Towards the end of the Global Pluralist Economics Training, we have successfully organized local/online events together with the participants. The GPET supported them in the conception, implementation and advertising of the local events. The GPET 2022 took one more step towards spreading the word about Pluralism in Economics together!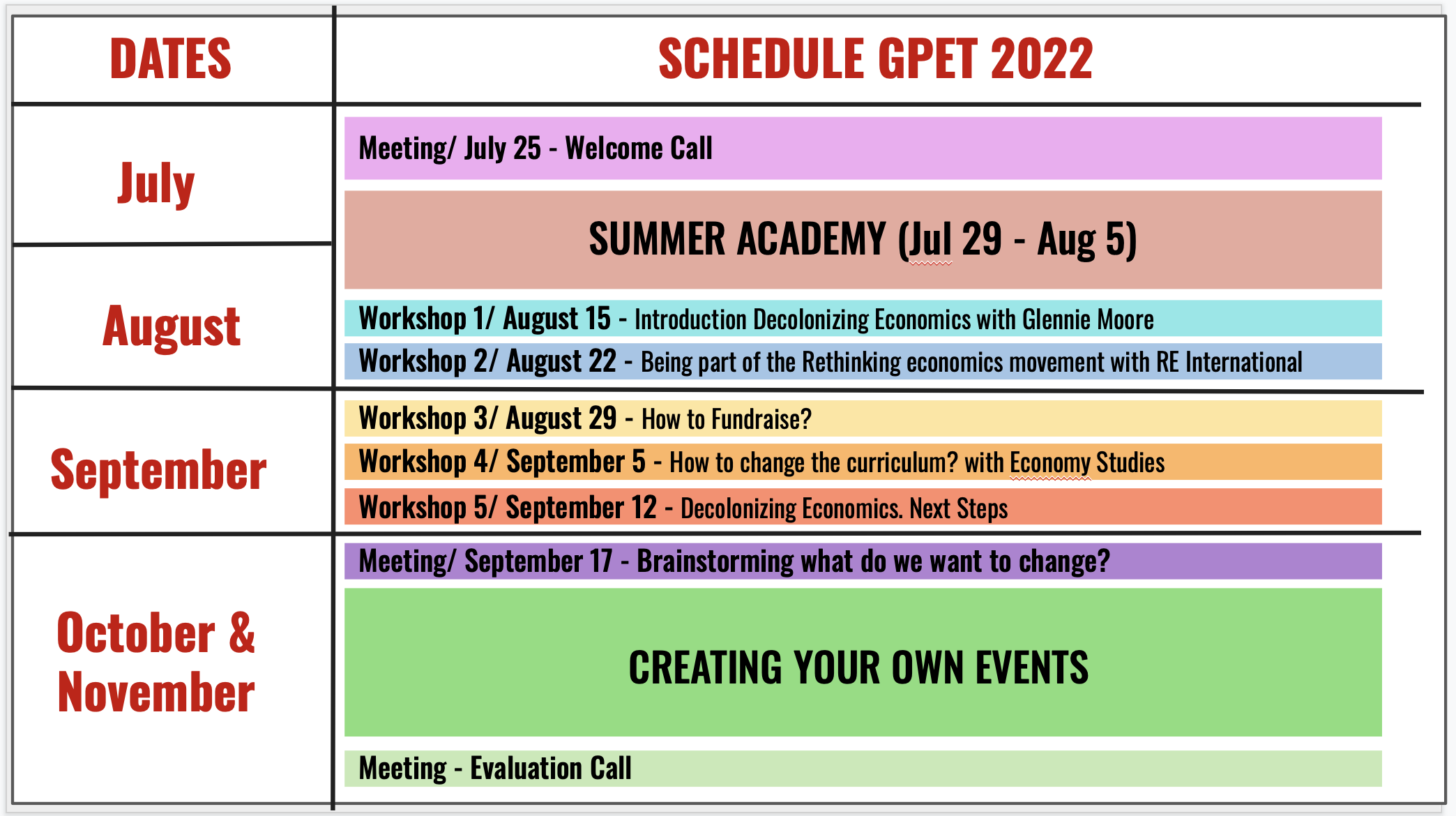 You can have a look at the highlights from previous years Global Pluralist Economics Training 2021 here.
The local events organized by GPET participants
As part of GPET, we encouraged the trainees to organize their own workshops in the second half of the year together with possible partners like universities, political foundations and/or NGOs. This could be the first step towards another Summer Academy of Pluralist Economics or a similar educational event that would take place in the so-called countries of the global south. You can find a collection of the events organized by our GPET 2022 participants and enjoy the insightful documentation:
Zambia - RE Cavendish University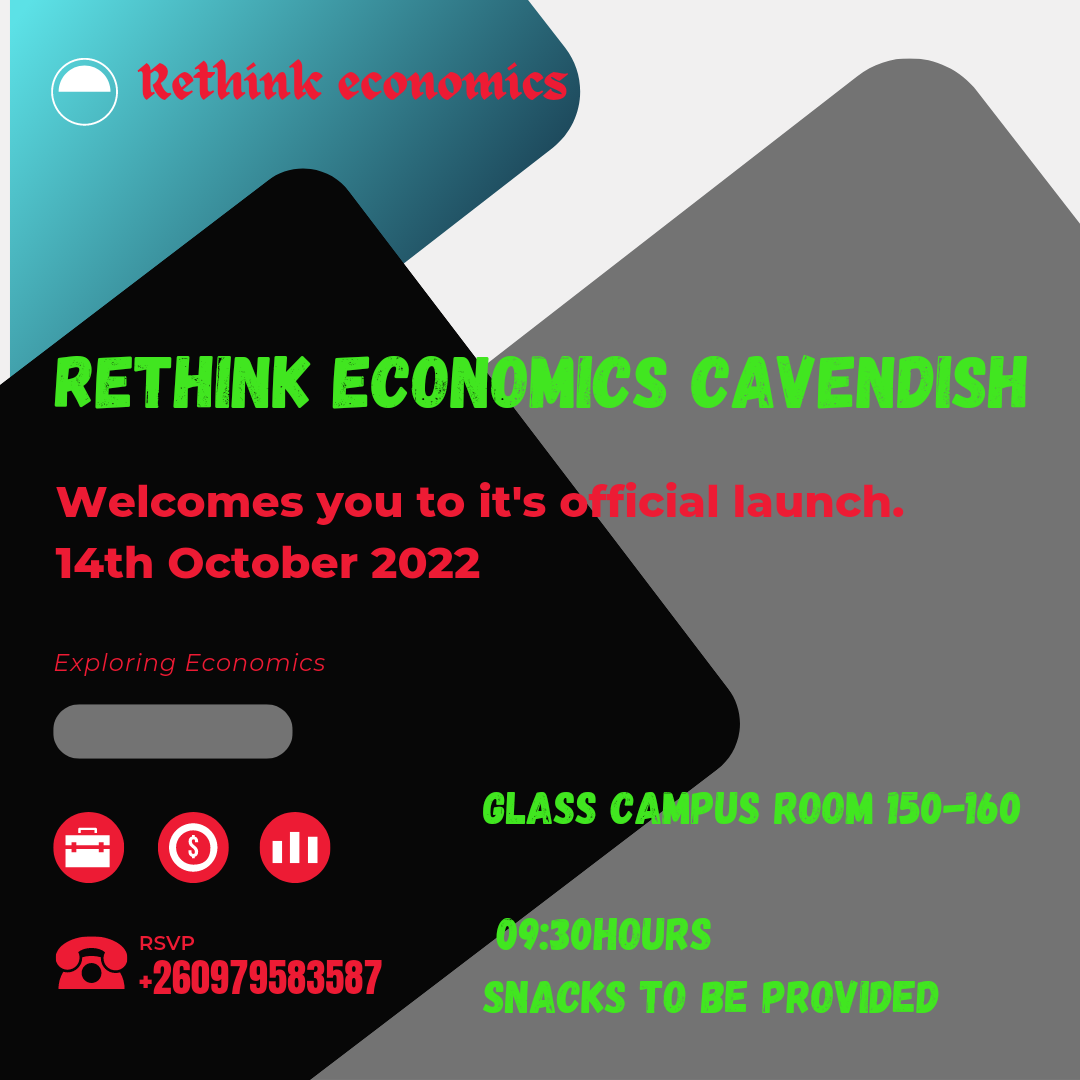 About the event:
This event was the official launch and introduction of Rethinking Economics Cavendish University, Zambia. The opening remarks were held by the president of Rethinking Economics Cavendish University, Mundia Lubinda. Followed by Cavendish University Student Union President. Additionally the Dean of Students was invited to be the guest of honor and officially opened the launch of the group.
Furthermore, several speakers were invited for the occasion such as Thomson Silomba ( RE Zambia President), who talked about Rethinking Economics International Network and Mulungushi Liase Economics Society ( MuLES). Chanda Katema (Amini Center for Policy Research) presented on Pluralist Economics and Decolonizing Economics. As well as a poetry performance in line with Pluralist Economics to get the message across artistically.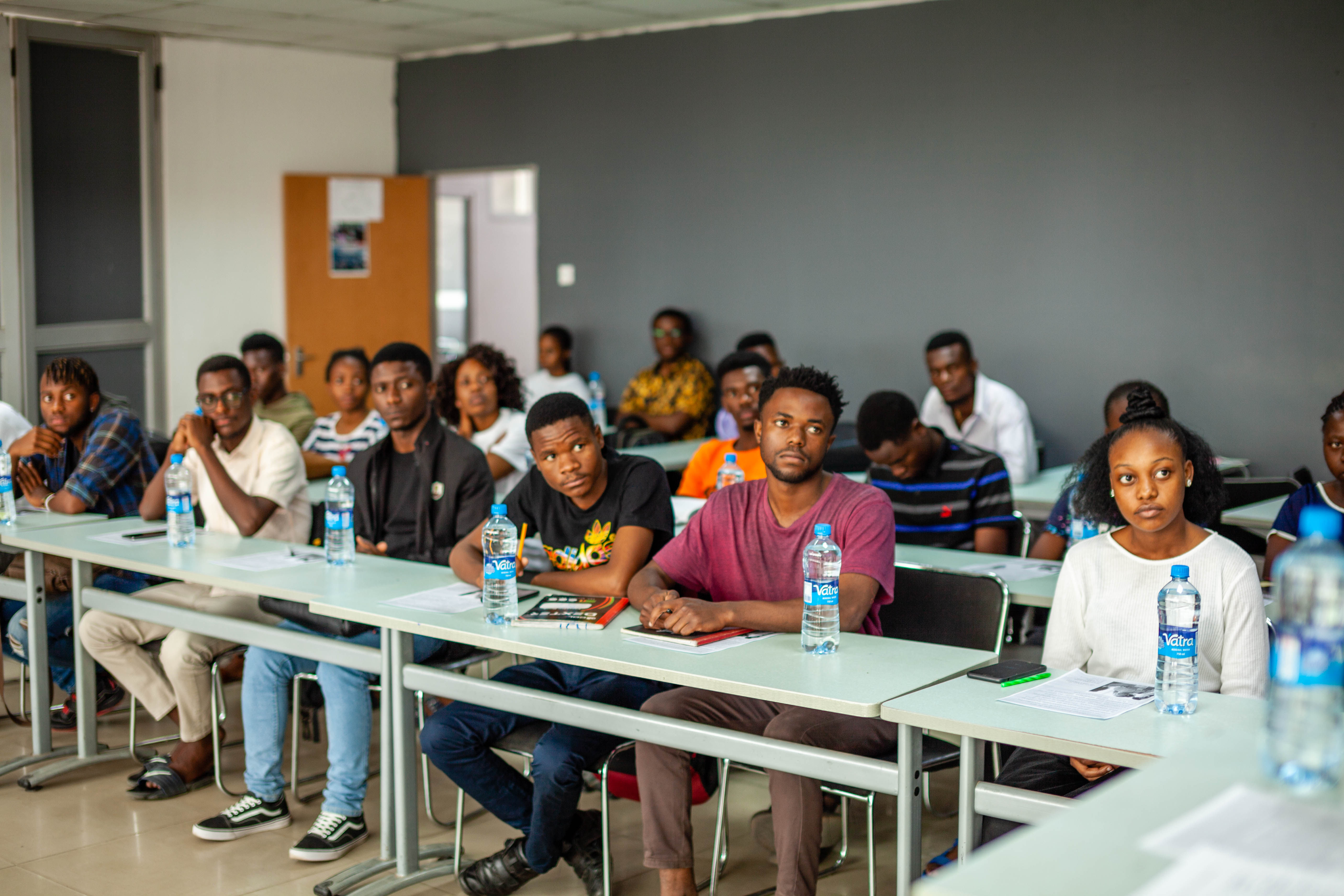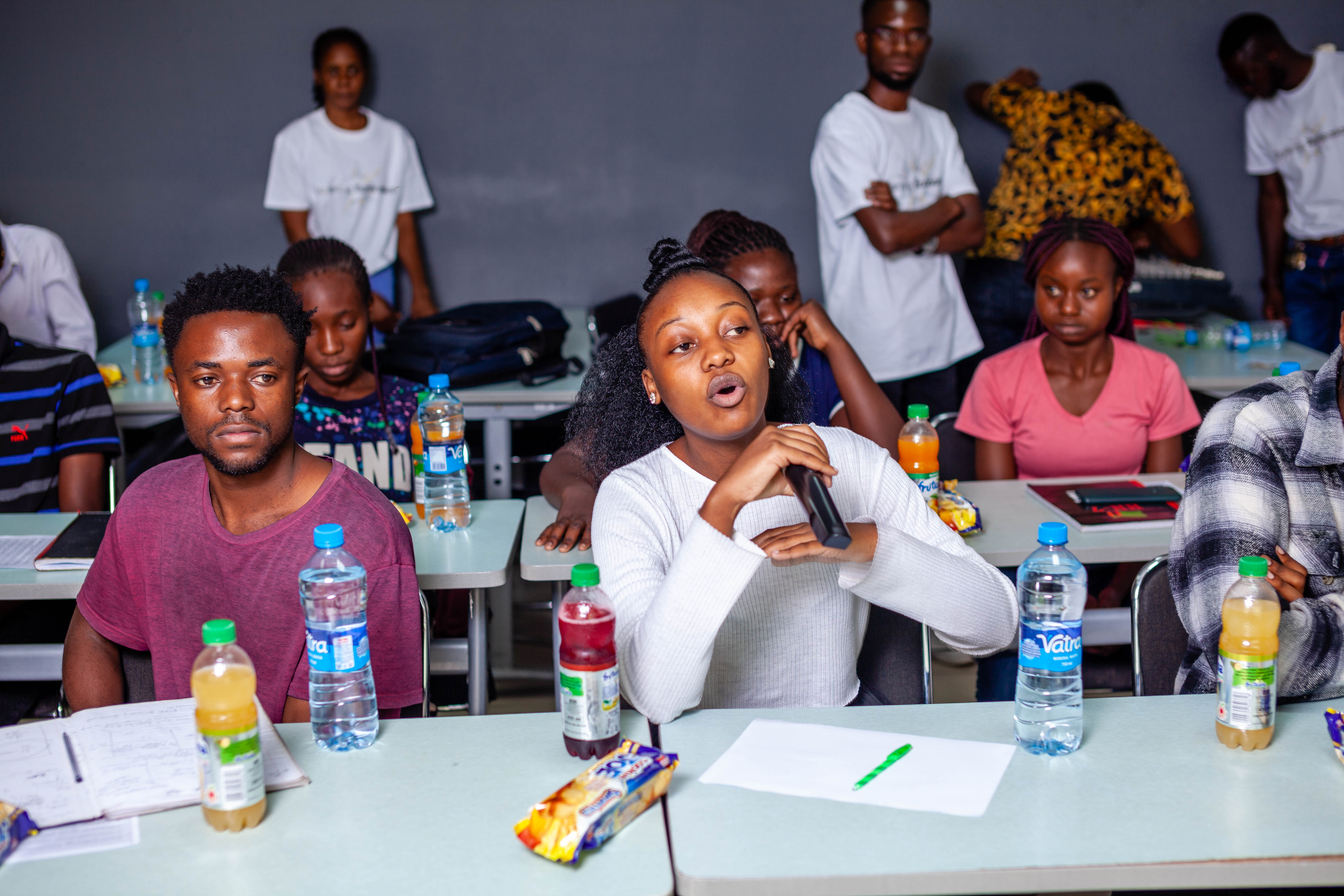 Rethinking Economics Cavendish University was formally established in August 2022. After attendeding a workshop about Rethinking Economics by Mulungushi Liase Economics (MuLES) they got interested in opening up their own local group. With the help of the local group leadership at Mulungushi Liase Economics society (MuLES) from Kabwe, they took the necessary steps to open a local group at Cavendish University. Their chapter embraces different faculties to bring diversity, pluralism, decolonizing
theories that will oversee different students from different faculties and provide solutions to Zambian Economics.
GPET trainee and Organizing team: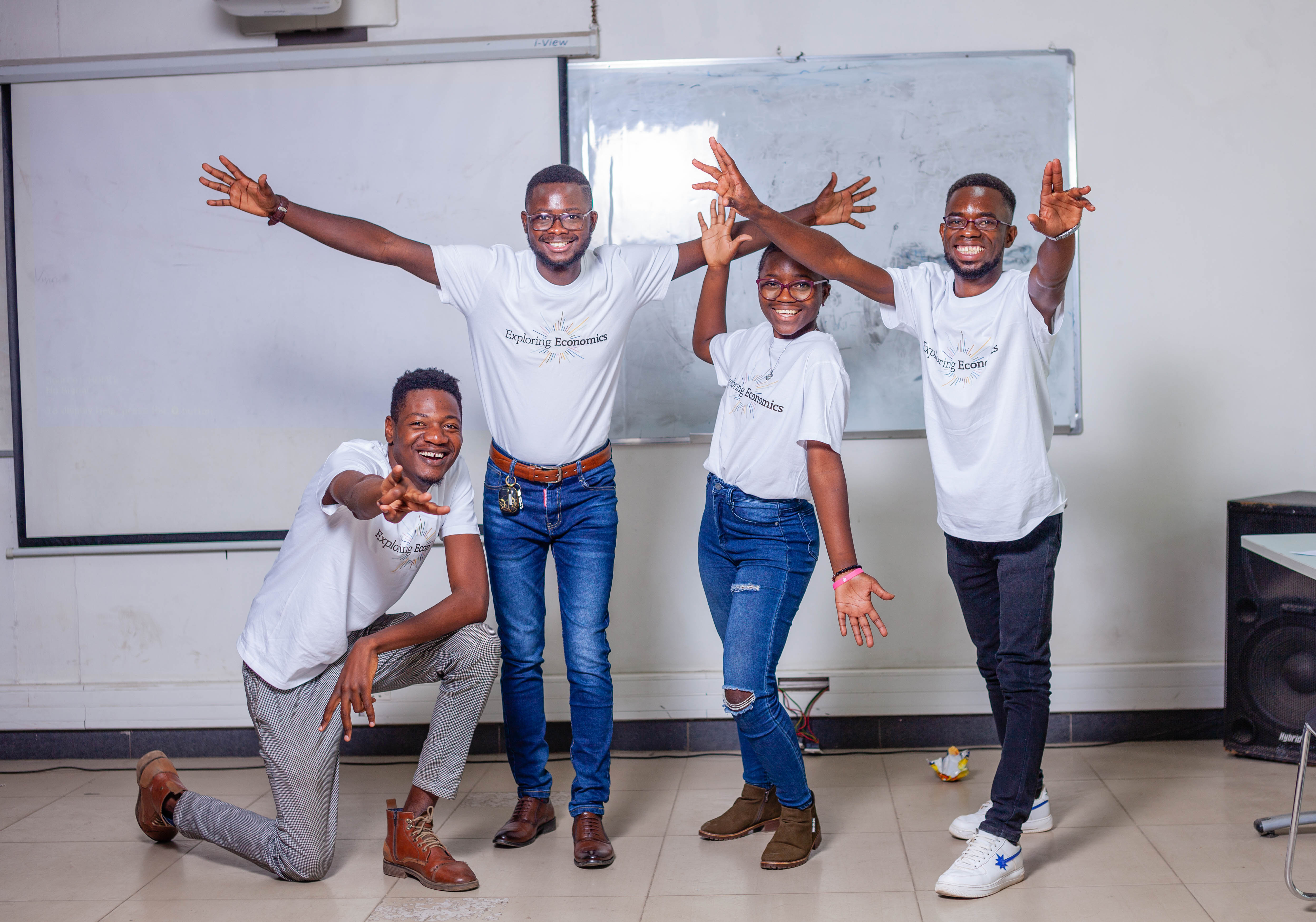 Uganda - Rethinking Economics Makerere University

The global economic crisis and the outlook of the post pandemic economic outlook with focus on the Ugandan Economy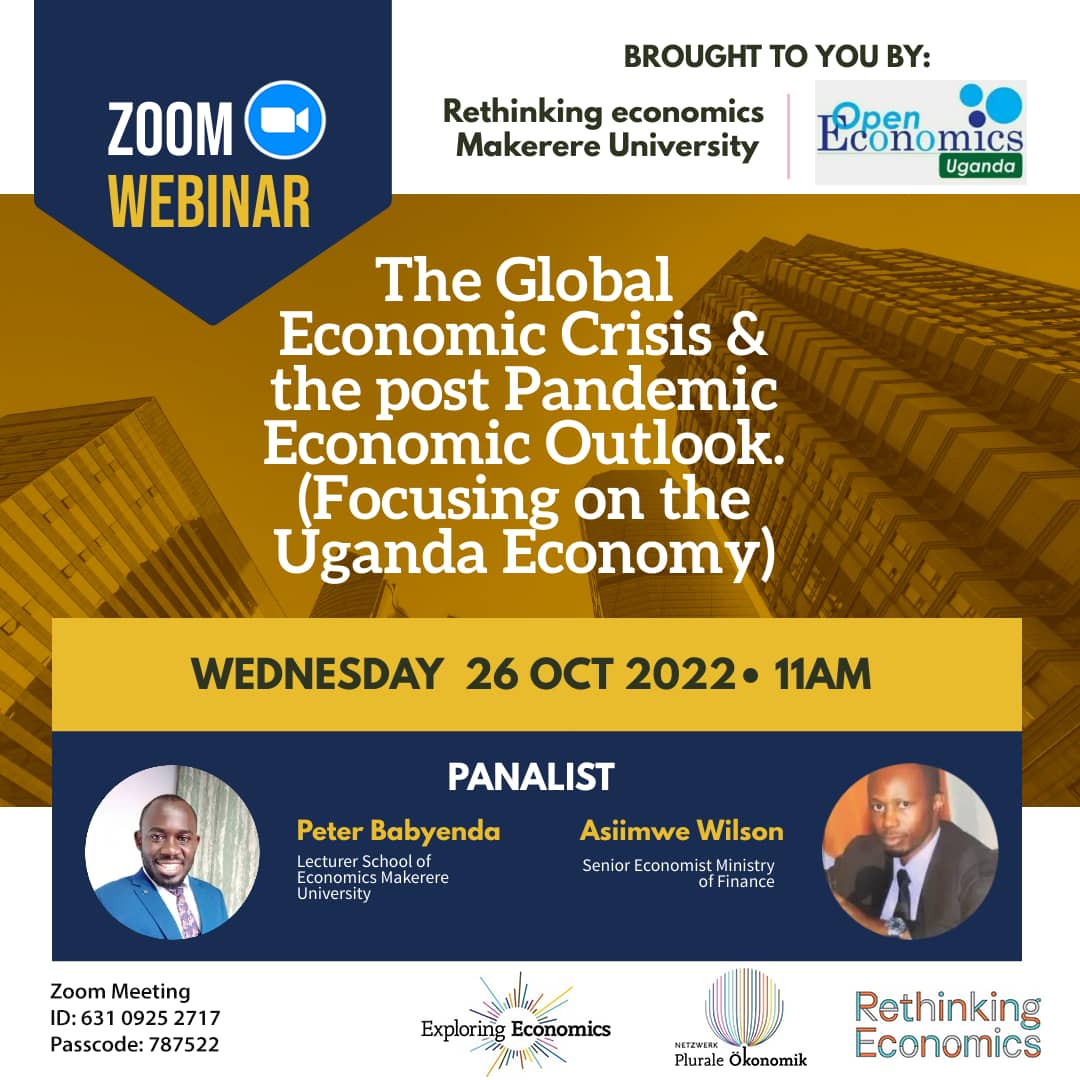 About the event:
The post pandemic era has been dominated by the desire and plan for economic recovery but the last two years have had a significant impact on the global economy with Uganda inclusive. the measures taken by countries to mitigate the short term impact/ immediate health implications of the pandemic left economies in unhealthy states. Economies all over the world are implementing policies to stimulate growth and revive lost business however a number of new challenges like inflation, food shortages, unemployment etc have arisen that seem to be creating greater challenges. This round table discussion will sought to do a deeper dive into these challenges, the overall impact on economies (Uganda) and what diverse solutions can be applied to achieve complete recovery and sustainable economic transformation.
Together with Peter Babyenda (Lecturer at School of Economics Makerere University) and Asiimwe Wilson (Senio Economist at Ministry of Finance, Uganda).
Rethinking Economics Makerere is a local Rethinking Economics group in Makerere University in Uganda. It was started in March 2022 with assistance from Open Economics Uganda and Rethinking Economics international. Their aim is to revive the Rethinking Economics campaigns in the University and further encourage young economics students within the University to think about the future of economics in the country and work towards creating and running activities that are informative, engaging, pluralistic, and relevant to Uganda's sustainable development. They are working towards bringing the school of economics administration and the university as a whole to take part in this conversion as they look towards building economists who look at the future beyond the neoclassical economics.
GPET trainee and Organizing Team: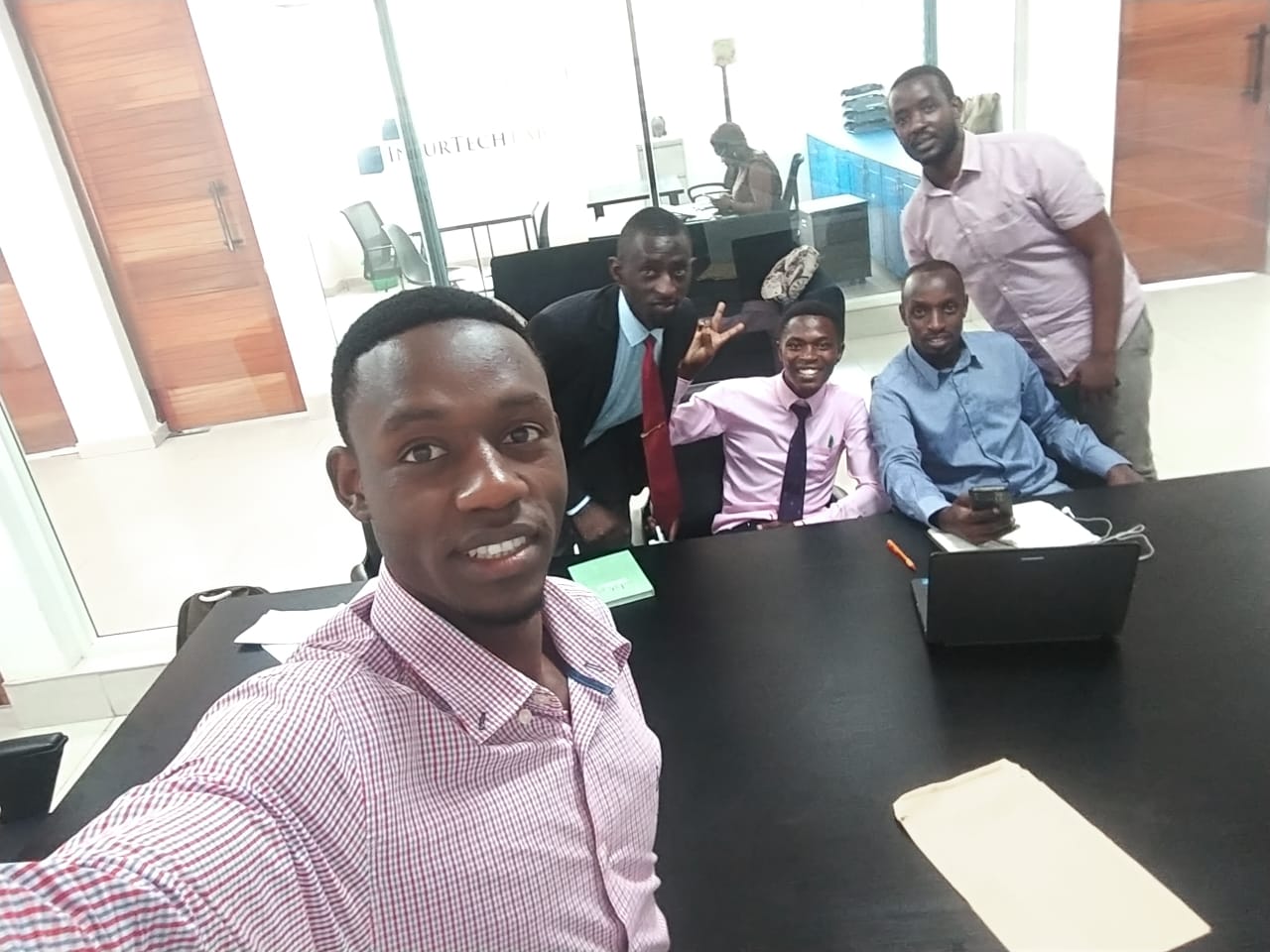 Mark Muwonge Bill, Murorwa Alvin Peter, Anthony Arimpa, Dancun Mugizi, Kamugisha Arbert
India - Kerala Network Rethinking Economics

KN RAJ ECON FESTIVAL 2022

The Kerala-based KN Raj Economics Club hosted a series of events in November 2022, as part of their aim to create a space for heterodox school of thought among the academic community in Kerala.

November 7th, 2022

About the event:

The first event was a webinar facilitated by Alex M.Thomas, where he talked about his book 'Macroeconomics: An Introduction'. The book introduces the readers to a heterodox approach to economics, as well as an exploration of the Indian economy. The recording of the webinar can be found here: Q&A with Alex M Thomas

November 10th, 2022

About the event:

The second talk was on Marxian economics by Ankit Singh from Jawaharlal Nehru University. The topics covered ranged from understanding the political economy of Transnational Corporations in the Global South, to hegemony in the 21st century capitalism. Watch the recording here: Marxian Economics: talk by Ankit Singh

November 13th, 2022

About the event:

The third event in the series was a discussion led by Jayat Joshi from IIT(M) on intellectual debates around the devaluation of Rupee in 1966. The talk focused on the views of the two Indian economists KN Raj and Jagdish Bhagwati, on the issue. The recording of the talk can be found here: Intellectual debates around devaluation of Rupee
Egypt - Rethinking Economics Egypt

Date: 1 November 2022

Event Title: Pluralism in Economics – Different Pathways for Envisioning the World

Mariam Attalla held a public seminar for about 30 students of the Faculty of Economics and Political Sciences, Cairo University. Students were introduced to the concept of pluralism, in general, and specifically in Economics. The seminar presentation focused on the imminent importance of introducing diversity of economic thought to current economic curricula. This was done by stressing on the negative implications of the current domination of one school of thought (neoclassical economics) on both the Global North and Global South development. The presenter discussed how the financial crisis in 2008/09 was connected to the unrealistic hypothesis of financial market efficiency in the Global North. Moreover, the recurring external debt crises and continuous resorting to the IMF and other international financial institutions were given as an example of how the global monetary system, that is based on the dominant economic theories, maintain the underdeveloped economic status of the Global South.

At the end of the seminar, students were introduced to the RE International, its establishment, goals and vision and invited to subscribe in the establishment of a local group in Egypt. Flyers on local group organization were distributed.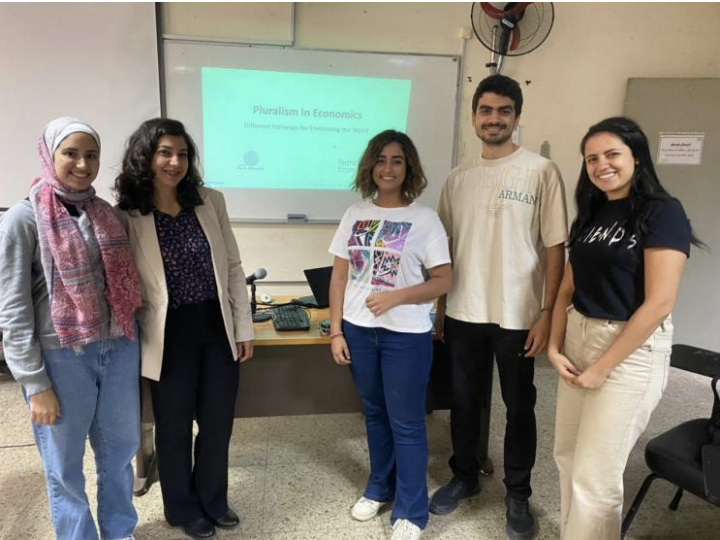 Date: 4 November 2022
Event Title: Rethinking Economics Egypt
Mariam Attalla was invited to give a talk at FEBS Café, a room on Clubhouse application, hosted by a group of students and graduates of the Faculty of Economic Studies and Political Sciences, Beni-Suef University, in Beni-Suef City. About 20 people attended the session. The session involved discussions about how the current Economics curricula do not reflect the Egyptian economic conditions, neither do they respond to the needs for orienting research towards local economic problems. In addition, the attendance expressed their concern about the extent to which the current political environment can allow such changes in the curricula, let alone any change at the decision-making level of economic policy. In light of such concerns, the role that RE Egypt can play in gathering voices was discussed. At the end of the session, many students subscribed to RE Egypt and expressed their wishes to contribute to changing the economic future of Egypt.
Date: 6 November 2022
Event Title: Launch of RE Egypt webpage on RE website
RE Egypt is now officially listed as one of the RE International local groups.
Date: 12 November 2022
Event Title: RE Egypt Internal Meeting – Cairo Local Group
Taking place virtually, about seven people from Cairo University attended for discussing organizational matters such as the coming events and members' roles.
Outcome: Members were assigned roles among: outreach and shout out, logistics, events and campaigns and overall coordination. In addition, a date was set for holding the workshop at Cairo University on 11 December 2022.
Date: 25 November 2022
Event Title: RE Egypt Internal Meeting – Other Cities
Meeting with 11 people virtually from cities, other than Cairo, in order to investigate the possibility of organizing a similar workshop but online in order to make it possible for the students from other cities to attend.
Outcome: An online workshop on "Current External Debt Crisis in Egypt" will be organized on 2 December 2022. The group also agreed on the need to launch a book club after the workshop.
Date: 2 December 2022
Event Title: External Debt Crisis – A Pluralistic Economic Approach
Online workshop
A three-hour workshop was organized with the following learning objectives:
1. How to read Balance of Payment and how external debt reflects on it.
2. Neo-classical views on BoP crises and policy recommendations
3. Heterodox views on BoP crises: Unequal Exchange Theory and International Financial Order as examples.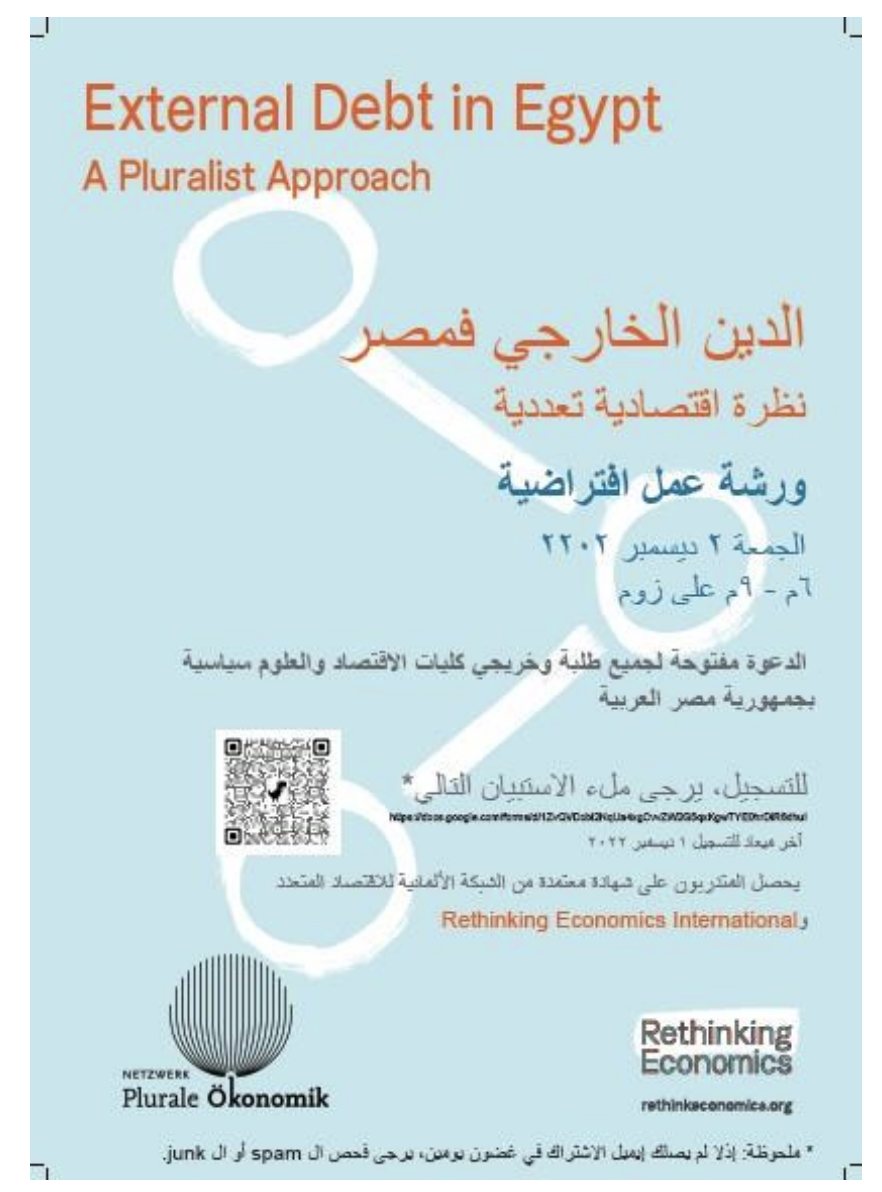 Phillippines - Ekonsepto

Date: December 10, 2022

Event Title: Webinar on the Philippine Education Crisis

Location: Zoom/Facebook Live (Online)

Description of the webinar

The Philippines declared a crisis in its education system after it performed last in the 2019 Programme for International Student Assessment (Pisa). Education, which is considered as human capital, is one of the identified sectors of growth in the Philippine Development Plan. This webinar on the Philippine education crisis would aim to start a discussion on this topic through the economic lens.

This webinar hosted two experts on human capital and the Philippine education system to the state of education in the Philippines and the declared education crisis.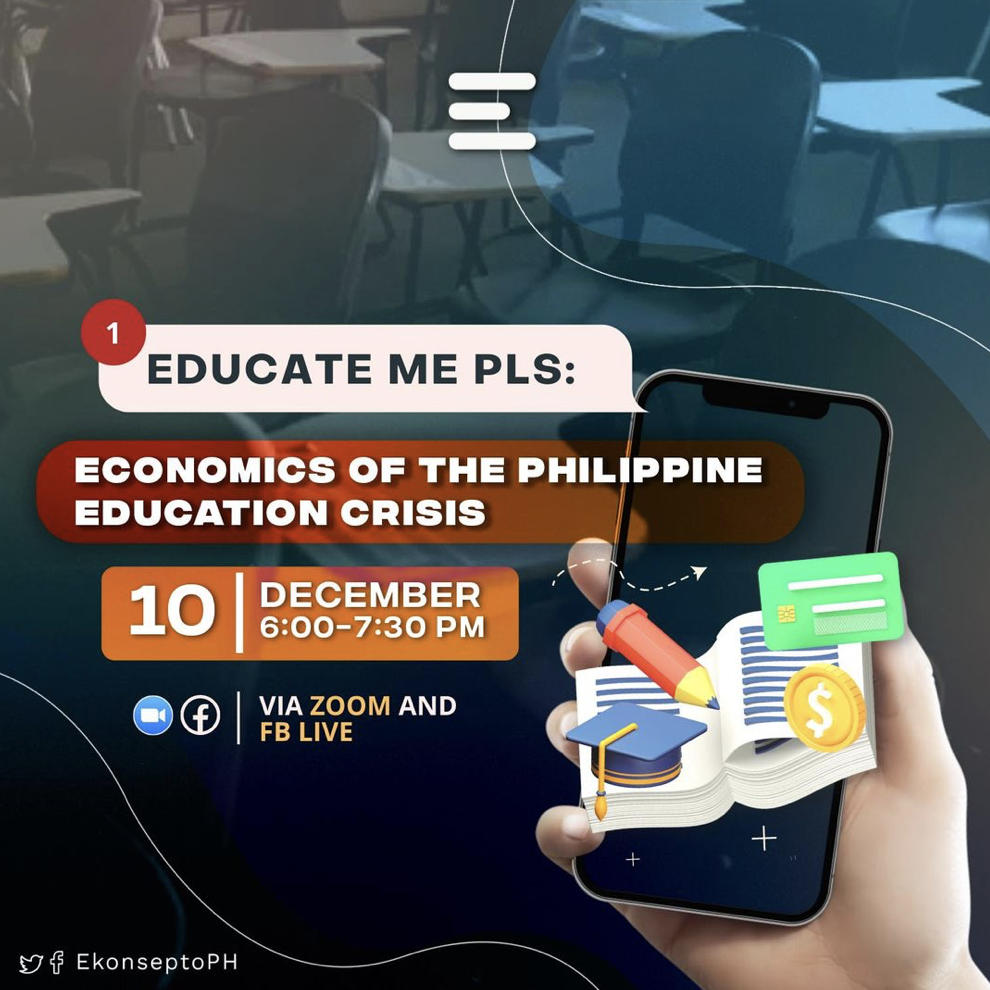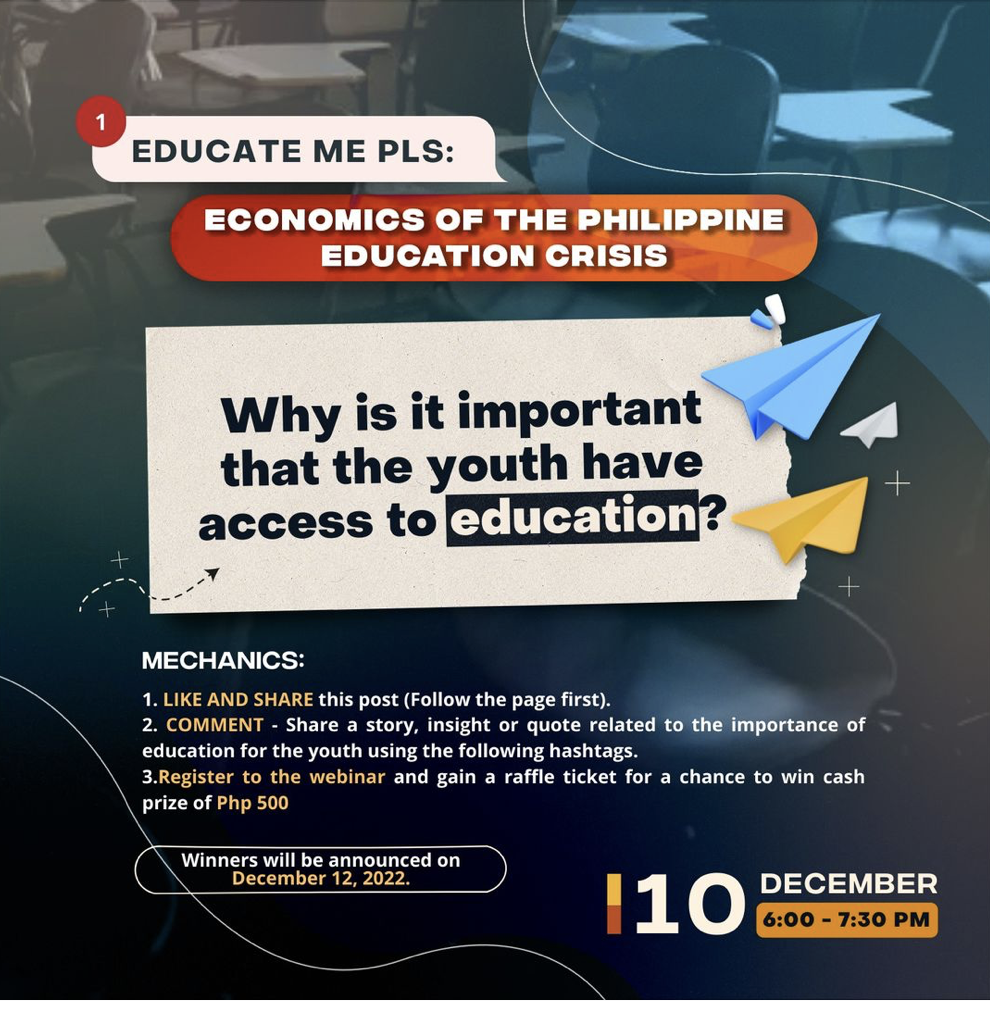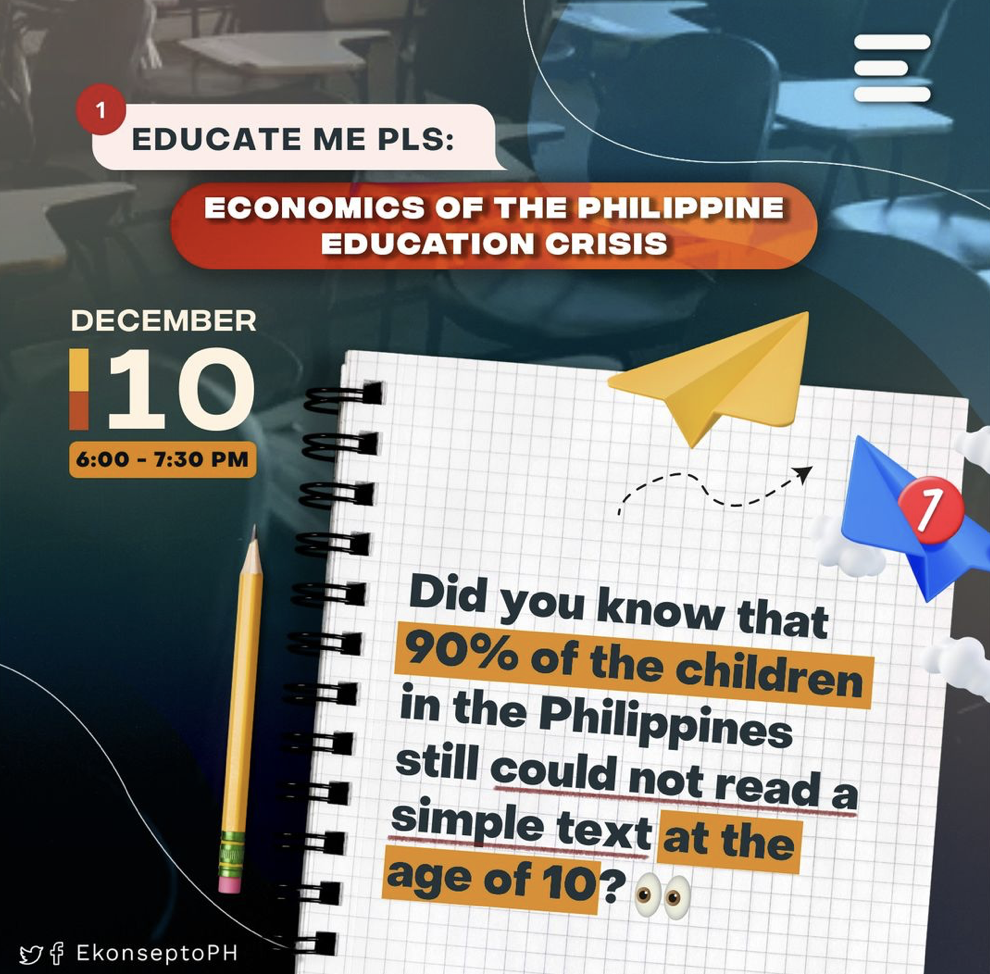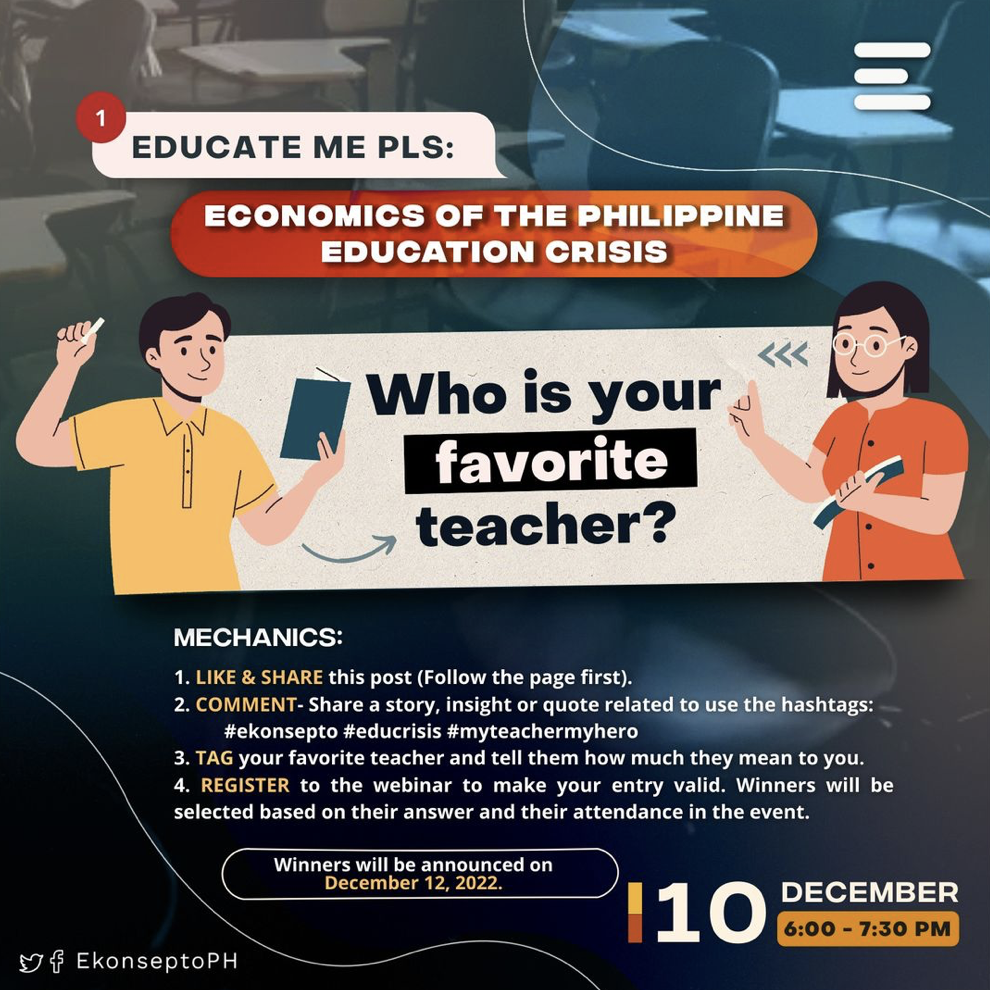 Peru - Rethinking Economics Peru Reading Circle

The reading circle:

We identified three different approaches to studying heterodox economics: 1) Based on textbooks, which often follow the division between heterodox macroeconomics and heterodox microeconomics; 2) Based on schools of economics, which is the usual way Rethinking Economics approaches the subject; and 3) Based on key authors, such Keynes, Kalecki, Sraffa and Shaikh. After discussing, we opted for the second one, and identified six schools of interest: Postkeynesian Economics, Marxian Economics, Dependency Theory, Institutional Economics, Ecological Economics and Feminist Economics. To this we added, as an introduction, the debate on what constitutes heterodox economics, so we have seven sections.


We have decided on a few readings related to each section and are giving particular attention to the first three: The debate on heterodoxy, Postkeynesian Economics and Marxian Economics. We'll have weekly discussions based on the readings we've agreed on, starting on the 29th of November. We expect to go through the debate on heterodoxy before December holidays, and to continue with Postkeynesian and Marxian economics by the start of next year.

The GPET supported this project with physical and ebooks.

Rethinking Economics Peru

is a national network that's part of the Rethinking Economics international community, founded in October 2020. Our organization was born out of the frustration of a few students from different universities in Peru with their curricula, especially with the little engagement with public policy and theories other than neoclassical economics. We've recently gone through restructuring to better address our challenges. We have three areas, which we call commissions: Education, Communications and Public Relations. The Education Commission, which is in charge of this event, currently has three co-coordinators, all of us graduates, and five regular members. The three co-coordinators thus have a bigger responsibility in the commission. We chose the co-coordination figure mainly to distribute the responsibilities associated with a leadership role and to work together in a small group to make proposals that are discussed and enriched with the larger team. This has let us work more efficiently and to continue our activities normally when one of us has complications of any kind.

We use the following social networks:
Facebook: @RethinkEconPeru
Instagram: @rethinkingeconomics.pe
Twitter: @RethinkEconPeru
YouTube: Rethinking Economics Perú
Application
Who can apply?
People from a country of the so-called global south (Africa, Latin America, or Asia) who are students or are working in any other way in economics or a related discipline. The applicants are seeking a more pluralist, a more sustainable, a more socially oriented stance of economics. Ideally you are involved with local or regional pluralist economics groups or networks like Rethinking Economics or De America Soy.
One of the main goals of our program is to support and strengthen your work in your home country. This is easier in a group. That is why we also encourage applications as teams. We want to make the Global Pluralist Economics Training 2022 as inclusive as possible. Therefore, we highly welcome applications from women and other less represented voices in academia.
Are there any costs?
There is no participation fee. You can be a trainee free of charge. Since the program will run online, the only thing you need is access to a computer and a stable internet connection.
How to apply:
To apply for the Global Pluralist Economics Training, please fill out the form below AND attach a motivational statement (1 page) + your CV (without a photo) at the end of the form.
The motivational statement should touch upon the following questions:
Why do you want to join the Global Pluralist Economics Training?
In which way are you already / do you want to be involved in the global movement for pluralism in economics?
How do you think you would benefit from our training?
Our organizing team will review all applications and get back to you as soon as possible. Participation in the GPET program is limited. We will have to select from the applicants, if there are more applications than seats.
If you face any difficulties in the application process or have questions about the program, please contact y.rieper@plurale-oekonomik.de
Please apply with form 1, if you have a google mail adress. If that is not the case, no problem, please use form 2 and send us your CV and motivational statement via E-mail.
The application period is closed.

Who organizes this program?
We have waited long enough for universities to change curricula in favour of more pluralism and diversity, and are taking matters into our own hands with the Global Pluralist Economics Training.
We as Exploring Economics are the e-learning project of the Netzwerk Plurale Ökonomik, which also consists of many different local groups across Germany.
We are cooperating with Rethinking Economics India, Rethinking Economics International, De América Soy and Open Economics Uganda. Rethinking Economics International is an even bigger network with lots of local groups globally. RE India and De América Soy, a network of Latin American organizations, advocate for pluralism in economics in their regions. The ISIPE is active worldwide to promote diversity in economic theory and methodology as well as to foster interdisciplinary exchange and cooperation. Our summer academy proves that this kind of cooperation is indeed possible.
The Global Pluralist Economics Training (GPET) is mainly supported by the Heinrich-Böll Foundation, which is a political foundation close to the party Bündnis 90 / Die Grünen in Germany. The foundation sees itself as an agency for green ideas and projects, as a reform policy future workshop and international network with partner projects in around 60 countries.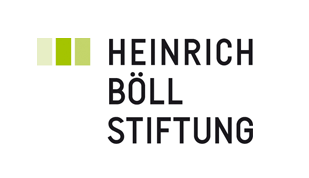 Let us know if you have any questions or want to get in touch with us. We are looking forward to your message.