Paradigmen und Kontroversen ökonomischer Theorien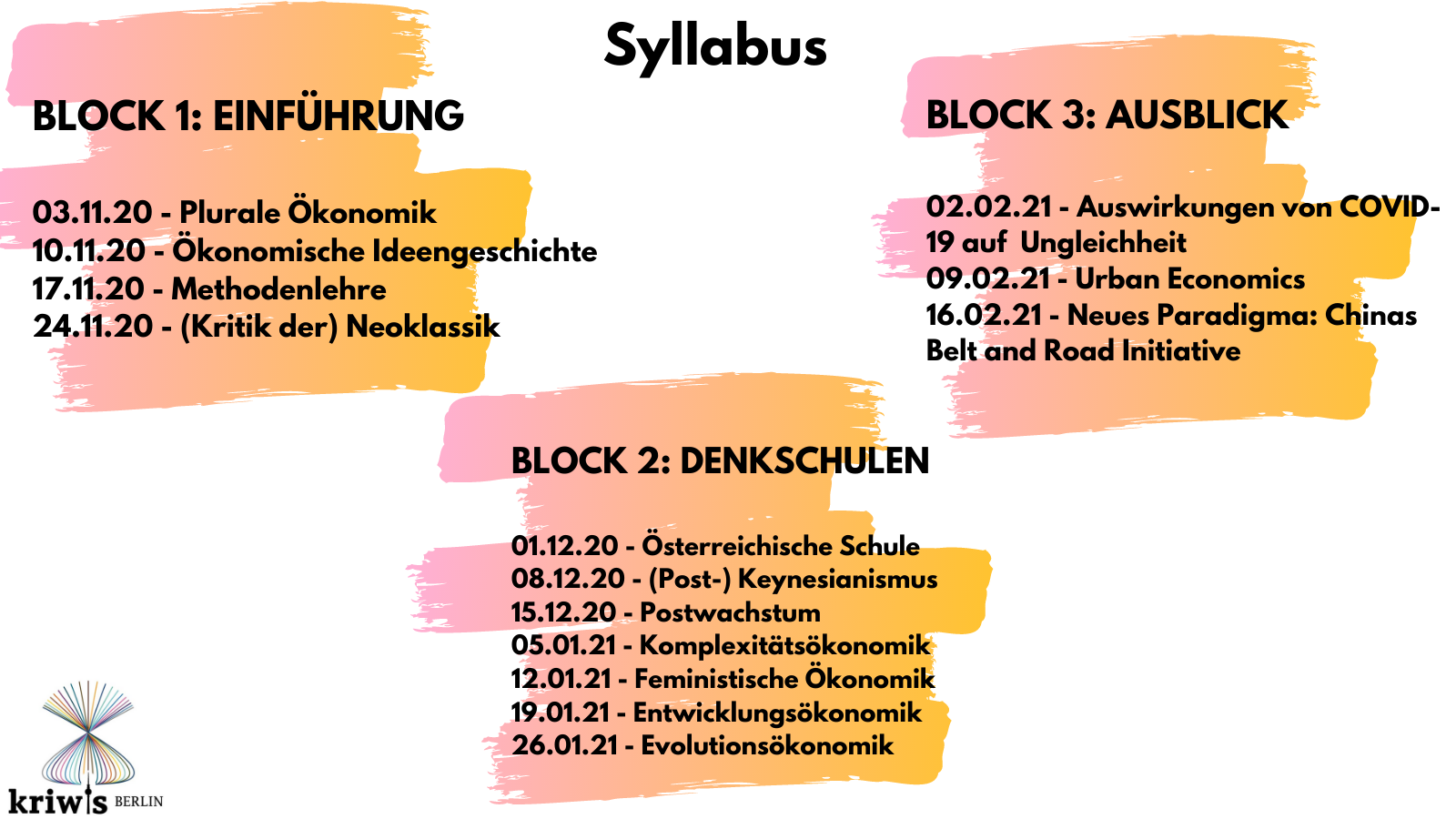 Die VWL ist vielfältig: Postkeynesianismus, Marxistische Ökonomik, Feministische Ökonomik, die Österreichische Schule, Evolutions- und Ökologische Ökonomik. Ziel ist es, die Studierenden mit der theoretischen Vielfalt der Ökonomik vertraut zu machen sowie die Vorteile eines solchen Pluralismus in der Lehre hervorzuheben. Dazu werden wöchentlich wechselnde Dozierende eingeladen, die eine Denkschule oder ein Forschungsprogramm vorstellen. Es wird auf aktuelle wirtschaftspolitische Diskussionen Bezug genommen. In anschließenden interaktiven Übungen werden aktuelle Kontroversen wie die COVID-19-Pandemie, die Finanzkrise, Alternativen zum BIP, Ungleichheit, Wirtschaftsethik und Kapitalverkehrskontrollen diskutiert. Insbesondere vor dem Hintergrund des weltweiten Aufrufs zu mehr "Pluralismus in der Ökonomik" (Netzwerk Plurale Ökonomik, ISIPE) wurde der Kurs von Studenten der FU und den Kritischen Wirtschaftswissenschaftler:innen angeregt und maßgeblich mitorganisiert.

Zeit & Ort:
Der Kurs wird ausschließlich online stattfinden, ab dem 3. November. Die Vorlesung findet jeweils Dienstags von 14-16 Uhr und die Übung Freitags von 10-12 Uhr statt. Die Übung wird dabei im Regelfall live sein, die Vorlesung nur teils.
---
Donate
This project is brought to you by the Network for Pluralist Economics (Netzwerk Plurale Ökonomik e.V.). It is committed to diversity and independence and is dependent on donations from people like you. Regular or one-off donations would be greatly appreciated.