3 results
What made the false assumption that saving the economy at all cost during a pandemic so popular? This paper discusses different pathways through the COVID-19 pandemic at national and international level, and their consequences on the health of citizens and their economies.
The last 15 years have seen extensive research into ecosystem service valuation (ESV), spurred by the Millenium Ecosystem Assessment in 2005 (Baveye, Baveye & Gowdy, 2016). Ecosystem services are defined as "the benefits people obtain from ecosystems" (Millenium Ecosystem Assessment, p.V). For example, ecosystems provide the service of sequestering carbon which helps regulate the climate. Valuation means giving ecosystems or their services a monetary price, for example researchers have estimated that the carbon sequestration services of the Mediterranean Sea is between 100 and 1500 million euros per year. The idea of ESV was a response to the overuse of natural resources and degradation of ecosystems, allegedly due to their undervaluation and exclusion from the monetary economy. ESV can be used (1) for policy decision-making, for example allocating funding to a reforestation project (2) for setting payments to people who increase ecosystem services, for example a farmer increasing the organic carbon content of their soil, and (3) for determining fees for people who degrade ecosystem services, for example a company that causes deforestation.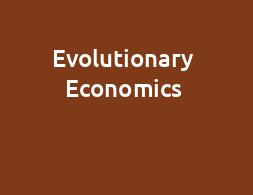 Evolutionary economics focuses on economic change. Hence processes of change such as growth, innovation, structural and technological change, as well as economic development in general are analysed. Evolutionary economics often gives emphasis to populations and (sub-)systems.